NEW WORLD RECORD:
Tallest Lego Tower-world record set in Vienna

Tallest Lego Tower- Legoland park sets world record

[May 6]LEGOLAND Park, Windsor,UK--Thousands of children and their families helped build the 100ft. Lego tower which sets the world record for the Tallest Lego Tower.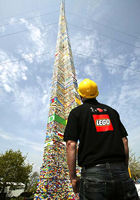 Photo: The Lego brick tower stands nearly 100ft tall and is shaped to resemble a Viking longboat mast (enlarge photo)

The park's special events manager, Penny Jenkins, said: "We are thrilled to bring the World Record to Legoland Windsor after four days of hard work, not to mention nearly 500,000 bricks, and it now stands at nearly 100ft.

Positioned at the park's main entrance, it is made up of almost half a million Lego bricks and celebrates 50 years of the popular children's toy.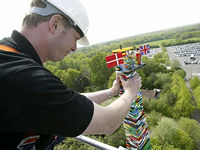 Photo:Youngsters helped build 20cm sections with each section lifted into place by a crane, with Lego engineer Bo Dahl Knudsen placing the final brick.

(enlarge photo)

The tower is designed to resemble a Viking longboat mast to mark the opening of the new Land of the Vikings at the Legoland Windsor theme park in Windsor, Berkshire.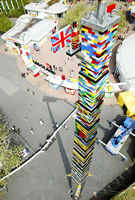 A Danish flag was planted on top, next to the Union flag, in honour of the toy's birthplace.

Photo: Made of almost half a million bricks, the structure has been built to celebrate Lego's 50th birthday.

(enlarge photo)

The previous world record 29.3m Lego Tower was set in Toronto in August 2007.