Most successful women coach-world record set by Maria Bitang

[April 18] BUCHAREST, Romania--Maria Bitang, 46, Romanian gymnastics coach (1992-2005), has set the world record for the Most Successful Women Coach: 19 Olympics Medals and a total of 152 medals at World and European Championships and Olympic Games.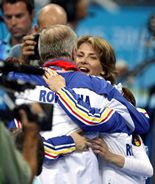 They say behind every successful man, there is a woman.
Octavian Bellu has coached the Romanian national squad since 1981. Maria Bitang joined him in early 90's. Along with the team they have obtained more than 250 international medals.
The outstanding results Maria Bitang and Octavian Belu achieved made them the world's most successful coaching duo. (enlarge photo)

A popular saying around the community of Romanian gymnastics fans (one of the largest being in the USA) is that the Romanian Anthem was played so many times at competitions that "The American women's gymnastics team knows all the words by now".

Their success's secret? Maria Bitang: "We have no magic wand here. It's just hard work. You can't win Gold unless you make some sacrifices. I wish I have spend more time with son...and I never have had a real holidays."

Octavian Bellu stated that he "doesn't see him working with anyone else than Mariana Bitang"

Maria Bitang is currently counselor for sports to the Romanian President Traian Basescu.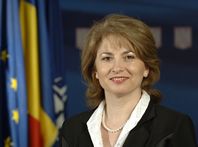 Maria Bitang is also the president of Champions House Foundation.

(enlarge photo)

The Foundation Champions House was founded by Romania's world-famous champions like Comaneci, Ilie Nastase (tennis), Iolanda Balas (high-jump), Ivan Patzaichin (flatwater canoer) and Elisabeta Lipa (rower)

Maria Bitang received many awards, was decorated few times by Romanian Presidents and received the highest honors from the Romanian Olympic Committee and International Gymnastics Federation.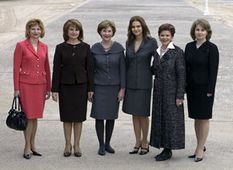 Photo: Mrs. Laura Bush and Mrs. Maria Basescu, second from left, spouse of Romania's President Traian Basescu, are joined for a photo opportunity with luncheon guests Wednesday, April 2, 2008, at the presidential seaside retreat in Neptun, Romania. Joining them- at right: Maria Bitang, former Romanian Olympic Gymnastics Coach and State Advisor. White House photo by Shealah Craighead (enlarge photo)

From 1958 when Romania won the first medal in gymnastics till today, the Romanian Gymnastics Federation brought Romania more than 300 medals, 260 won by female gymnasts and 70 by male ones, medals that rewarded the value, the work but also the tradition the Romanian gymnastics School has created, and at the same time, brought a huge joy to all Romanians.

Related:
Most Successful Coach-world record set by Octavian Bellu