Most Successful Coach-world record set by Octavian Bellu

[Dec 1] BUCHAREST, Romania--Octavian Bellu, 56, Romanian gymnastics coach, has set the world record as the Most Successful Coach: 16 Olympics Gold Medals and a total of 279* (*updated to 305) medals at World and European Championships and Olympic Games.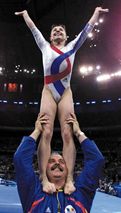 Highly successful, Octavian Bellu led the Romanian gynastics team to five world and two Olympic titles, as well as coaching numerous individual gold medalists - since the 1991 break-up of the Soviet Union, Romania has been the most successful women's gymnastics power.
(enlarge photo)
Octavian Bellu coached such accomplished gymnasts as Lavinia Milosovici, Andreea Raducan, Simona Amanar and Catalina Ponor.

Although a moderately successful gymnast in his early years, Belu's success has been in the field of coaching rather than performing, and he has spent his adult life in this profession.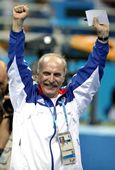 Octavian Bellu was head of the national team, with interruptions, between 1988 and 2005. He has been the coach of the Romanian Women's Team since the defection of Bela Karolyi for political reason in 1981.

(enlarge photo)

His dedication and commitment to excellence have ment the key to success for Romanian gymnastics.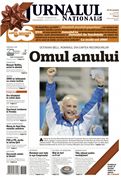 Octavian Bellu received many awards, was decorated few times by Romanian Presidents and received the highest honors from the Romanian Olympic Comitee.

(enlarge photo: Jurnalul National: Omul Anului / "Man of the Year")

Octavian Bellu also served as an adviser on the staff of President Traian Basescu. Octavian Bellu was appointed as the new president of Romania's sports governing body (ANS).


Media:
Jurnalul National: Omul Anului (Man of the Year)

Adevarul: 2007 - record dupa record

Prosport: Octavian Bellu, Cel Mai de Succes Antrenor din Lume

Prosport/ Bellu: "Este o distinctie a gimnasticii romanesti"

Gazeta: Octavian Belu in Cartea Recordurilor

TVRi: Premiile TVRi (TVRi Awards)

Video: Good Bye Golden Team!


Octavian Bellu -The World's Most Successful Coach


Catalina Ponor - The Best Gymnast in the World


Tribute to Romanian Gymnastics


Most Successful Coach-Octavian Bellu



[ Submit a world record ] [ World Record Certificate]
[ Book of World Records ] [ World Records Store ] [ Club ]



Most Successful Coach-Octavian Bellu


Fastest race around the 'World'-Rohan Veal


Largest passenger plane-Airbus A380


Fastest 10K race-by Hillary Kimaiyo


Most 10 scores at Olympics-Nadia Comaneci