Largest lenticular mural-world record set by Big3D

[Nov 7] LAS VEGAS,Nevada,USA--A 98-feet long by 13-feet tall (29.9m x 3.9m) lenticular mural by Big3D set the world record for the largest lenticular mural ever.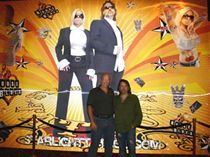 World-renowned tattoo artist Mario Barth partnered with Big3D to produce the record-setting mural.

The 3D lenticular mural was installed in the Mandalay Bay Casino is association with the House of Blues nightclub and restaurant in preparation for the grand opening of the Mr. Bart's latest tattoo emporium.

The enormous 3D/flip mural is emblazoned with iconic tattoo imagery surrounding larger-than-life shots of Mr. Barth and his wife and head of operations, Carol.

Vibrant colors recall some of Mr. Barth's more vivid tattoo work, much of which adorns the bodies of some of the world's most famous celebrities. The installation will remain while the tattoo emporium is under construction.
No stranger to record-setting lenticular installations, Big3D's owner Tom Saville was particularly proud of the company's latest achievement. "It was a pleasure to work on Mr. Barth's Starlight Tattoo project. His desire to transcend the ordinary and create a truly stunning graphic display was a challenge I knew we could eet. I tip my hat to Mr. Barth and to the team at Big3D.com."

Installation went smoothly and was completed in less than one day. When the half-ton crate of lenticular panels was delivered the morning of October 18th the installation crew overseen by Mr. Saville went immediately to work.

Approximately three hours was invested in preplanning the installation, using laser guides to mark the panel locations. Another four hours was spent hanging the panels in place.


Skydiving after heart surgery-Laura Rites

Strongest Ear-Lasha Pataraia


Fastest talking female-Fran Capo


Largest passenger plane-Airbus A380


Fastest 10K race-by Hillary Kimaiyo


Fastest board breaking-record set by Mitch Ellis