Monday, November 27, 2017

Largest Awareness Ribbon Made of Footballs: world record set in Lebanon (VIDEO)

BEIRUT, Lebanon -- The Largest Awareness Ribbon Made of Footballs world record was achieved by The Ministry of Public Health in Lebanon, under the Patronage of First Lady Nadia Aoun and Deputy Prime Minister and Minister of Health Ghassan Hasbani, in collaboration with the World Health Organization, at the Camille Chamoun Sports City Stadium, in Beirut, Lebanon, on the 8th of October 2017, according to the World Record Academy.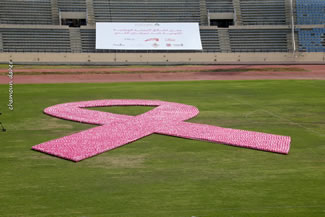 Photo: The World's Largest Awareness Ribbon made of footballs is more than 35meters in lengh and 20meters in width. All Photos: Chamoun her (enlarge photo)

Dr Rasha Saadi Hamra, Head of Health Education and Public Relations at Ministry of Health, Lebanon: "This is the first and the largest Breast cancer awareness ribbon of its kind in the world.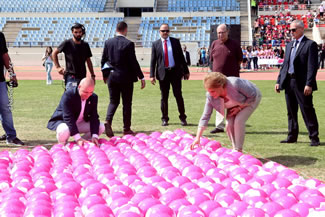 Photo: First Lady Mrs. Nadia Aoun and Minister of Health Mr. Ghassan Hasbani placing last two balls inside the ribbon (enlarge photo)

"It is made of 8250 real footballs that were especially made for the ribbon that have the breast cancer ribbon it it with the name of the national campaign (in Arabic).

"The ribbon was more than 35M in length and 20M in width.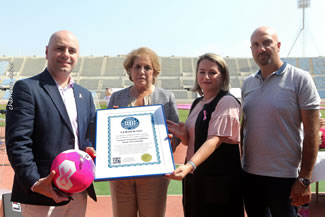 Photo: Handing of the WRA certificate to the First lady and Minister by the lawyer and the topographer. (enlarge photo)

The new world record was verified and confirmed for World Record Academy by a local surveyor and local lawyer.

Mr. Ahmad Majed Shaaban, Topographer & Surveyor, Court Sworn Expert: "The Awareness ribbon made of footballs" sign is centered within a rectangle on a lengh 35.20m and a width 22.10m. "The internal area of the sign is 352 square meters and includes 8250 balls soecially used for the campaign.

On behalf of the World Record Academy, a Beirut-based lawyer handed the world record certificate to local authorities and organizers.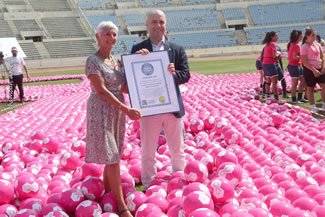 Photo: World Health Oorganization's Representative in Lebanon Dr. Gabriele Reidner and Minister holding the certificate proudly and standing inside the ribbon (enlarge photo)

Dr Rasha Saadi Hamra, Head of Health Education and Public Relations at Ministry of Health, Lebanon: "This work is due to effort of a very small team who believed in me and my dream and together we made it a reality. Words can not express how thankful I am to each and everyone one of you: Majdi Seif, Lina Mohsen, Manal Saleh, Shehab Mohamad, Yassine Marie, Bou Saada, Sanaa Bou Hamdan, Cladou Hamieh, Dima Dakroub, Saad Jradi."

The new world record was sponsored by:
Banque De Liban: www.bdl.gov.lb
Middle East Airlines: www.mea.com.lb
WHO-Lebanon Office: www.who.int
Tamer Holding: www.tamerholding.com Technomania: www.techno-mania.net
Hicon constructions: www.hicon-sarl.com
Ipex Printing: www.ipexpp.com
Multiframes: www.multiframes.com
Right to Play (Global): www.righttoplay.com
Red in Circle (National NGO)
Rim Water: www.rimwater.com
Tropicana Juice: www.smlclebanon.com
English Cake: www.enlishcake.me
Poppins: www.poppins.com
Sanita: www.sanitalb.com
Bluemz Catering



Related world records:
Most Total Knee Replacements performed with Minimal Invasive Surgery: Dr. Jae Hoon Chung sets world record (VIDEO)

Laparoscopic Ovarian Cancer Staging Surgery on the Largest Tumor: Arizona doctors set world record (VIDEO)

Most Free Orthopaedics Surgeries: India sets world record (VIDEO)

Longest Day at the Optician: Teignmouth Specsavers sets world record

Most Iris observations and analysis: Lee Nam-han sets world record (VIDEO)

Most medical board certifications: world record set by Dr. Hyun Joon Shin (VIDEO)

Most people making heart-shaped hand gestures: Carrefour Belgium breaks Guinness World Records record (VIDEO)


Largest mattress: Dolidol Maroc


Longest playable stringed musical instrument: CapitaLand Singapore

Largest display of toy windmills: energis GmbH


Most People Waving Hands Simultaneously: AG Insurance