Friday, January 1, 2010

Most expensive virtual item - Crystal Palace Space Station sets world record

GOTHENBURG, Sweden--The auction for the Crystal Palace Space Station in the Entropia Universe massive multiplayer online roleplaying game (MMORPG) has sold for $330,000 (3,300,000 PED) to Buzz "Erik" Lightyear-setting the new world record for the Most expensive virtual item.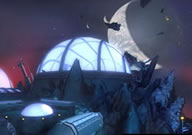 (enlarge photo)

The player who won the auction for the Most expensive virtual item, Buzz "Erik" Lightyear, is known as one of the best crafters within the game.
"All Buzz has to do is let the station run, set a decent tax rate, keep it stocked with things to hunt, and he can take all the PED he earns and translate it into cold, hard cash," says a specialist.

Buzz wrote on the Entropia's Forum:" I was really hoping to win this auction. I believe Crystal Palace can be amazing since it won't just be owned by some investor, but instead by a very active, and very old player who loves Entropia Universe."

Entropia Universe is a massively multiplayer online virtual universe designed by Swedish software company MindArk, based in Gothenburg. The Entropia Universe is a direct continuation of Project Entropia, with MindArk reporting a 2006 in-game turnover of over 3.6 Billion PED ($360 Million USD).

Entropia Universe is well known for its "real cash economy," where $1 can buy you 10 PEDs (Project Entropia dollars) in the virtual world. The Crystal Palace is a huge virtual space station that orbits the Planet Calypso.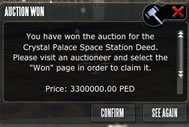 The space station provides an income stream of revenue from any purchases made there plus hunting on the space station.
(enlarge photo)
The Entropia online community claims to have over 810,000 registered participants from over 220 countries.

The Crystal Palace Space Station (commonly abbreviated to CP) is the first of two space stations in Entropia Universe, which was constructed in 2004. It is a popular hunting ground for experienced hunters looking for a challenging time.

The Entropia Universe entered the Guinness Book of World Records in both 2004 and 2008 for the most expensive virtual world objects ever sold.
The previous Guinness world record for virtual property was previously set with the purchase of Club Neverdie - The Virtual Space Resort and Nightclub, for 1,000,000 PED (USD 100,000).

Below is a video tour of the Entropia Universe Crystal Palace Space Station on Planet Calypso.
Related world records:
Fastest update of relationship status - Dana Hanna and Tracy Page sets world record

Largest Online Collaborated Jigsaw-Lipton Yellow Label Tea sets world record

Most popular video ever-Numa Numa by Gary Brolsma sets world record

Most downloaded application in 24 hours-world record set by Firefox 3

Longest domain name-world record set by Llanfairpwllgw- yngyllgogerychwyrndrobwll-Llantysiliogogogoch.com

Friday, January 1, 2010