Most expensive mobile phone number-world record set by Qtel

DOHA, Qatar -- During a charity auction, the mobile phone number 666 6666 was sold for 10m Qatari riyals ($2.75 million) at an auction held by Qatar Telecom-setting the world record for the most expensive mobile (cell) phone number.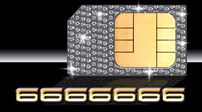 Photo: The auction started at a million riyals and interest quickly narrowed from eight bidders to just two, according to Kuwaiti News Agency (KUNA).
(enlarge photo)

The auction was organised by national telco Qtel, which has run two previous auctions.

"Qtel has a long track record of innovative campaigns for the local community and we are very proud to have the mobile number auction commemorated in this way," said Adel Al Mutawa, Executive Director of Group Communications, Qtel.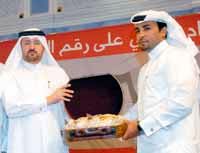 Photo: Waleed Mohammad Al Sayed (left) with the SIM card for the mobile number, 6666666, at the auction yesterday.
Photo: Ayub Abdullah

The amount will be utilised by Qtel to establish a health project in collaboration with Hamad Medical Corporation, Qtel Executive Director (Group Communications) Waleed Mohammad Al Sayed disclosed.

Having seven sixes as your mobile number might seem devilish to some, but interpretations vary. A brief dip into the weird world of numerology shows 666 is seen as holy in Judaism because it represents six directions - up, down, north, south, east and west. Others equate it with the Arabic word "ellah" meaning God.

On a techy note, the first Apple Computer sold for $666.66, the sixth letter of the Hebrew alphabet is w - so www. shows how evil the internet is :-))
And finally, Viagra has a molecular weight of 666.7g/mol.

The previous record holder was Chinese number 8888 8888, which sold for US$ 480,000 (£270,000). The Cantonese word for eight sounds very similar to the word for rich. It was bought by Sichuan Airlines.

Related:
Most expensive cell phone-world record set by GoldVish phone

Rod Baber set world record for highest cell phone call

Lightest mobile phone-world record set by Modu mini phone
Thursday, September 18, 2008