Longest journey around the world -world record set by Rosie Swale Pope

[June 21] EDINBURGH, Scotland,UK-- The 61-year-old Rosie Swale Pope, who travelled 32,000km (20,000miles) across 12 countries, arrived in Scrabster in the north of Scotland, setting the world record for the Longest around the world journey.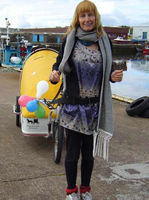 Photo: Rosie Swale-Pope wore out 45 pairs of shoes in more than 240 weeks of running on a trek around the world that began after the death of her husband in 2003 from pancreatic cancer. She said the adventure began as a way to raise awareness for the disease.
(enlarge photo)

Rosie Swale-Pope is also the first person to travel around the world both by sailing and on foot.
Swale-Pope is no stranger to adventure, having achieved fame in 1970 as a round-the-world yachtswoman. She is set now to become the first person to both sail and run around the world.
In a worldwide loop starting and finishing in Wales, Pope covered the maximum possible distance on land. Her trip took her to Holland, Germany, Poland, Lithuania, Latvia, Russia, the United States, Canada, Greenland, Iceland and the Faroe Islands in the North Atlantic Ocean.

She was completely self-sufficient, carried all her possessions in a cart attached to her waist, and camped almost every night in a tiny tent by the side of the road.

Rosie, 61, shot to fame as a yatchswoman in the 1970s when she sailed through the tropics naked with first husband Colin Swale and daughter Eve. Their son James was born during the voyage.

With no back-up team and only a small amount of funding, she traversed the planet pulling a cart containing provisions and camped at the side of the road after each day of running.

"The purpose of my journey has been to highlight the preciousness of life," she said. "I had to do something and this was a small thing really — just putting one foot in front of the other."

She has overcome broken ribs, double pneumonia and a breast cancer scare during her journey. She was nearly swept to her death in a river in Siberia and battled frostbite in temperatures of minus 62C in Alaska. On the plus side, she also had to decline 29 marriage proposals on the way.

The mother of two children and grandmother of two said she plans to write a book about her experiences during her journey, which include being followed by wolves, receiving 29 marriage proposals, and being invited to speak on The Martha Stewart Show.

Her many marriage proposals were probably from men who fancied the cart, not me, she joked. "I think most of them were simply because I looked strong and handy for hauling logs and things. I had nine in Poland alone."

A lifelong adventurer, Rosie completed the Round The World yacht race in the 1970s, giving birth to her son along the way and causing a stir by sailing naked through the Tropics.

Rosie, who was also championing the cause of Russian orphans, arrived in Scrabster, north Scotland.

She will run another 1,000 miles before she goes back to her home in Tenby, West Wales, August 25- 1,789 days after she began her journey in October 2003.