New world record
Largest tow truck parade-world record set by the Metropolitan New York Towing Association


Largest tow truck parade-NHTA sets world record

[May 19] HAMPTON,NH,USA--There were more than 250 tow trucks on the road during the New Hampshire Towing Association's world record attempt for the largest tow truck parade.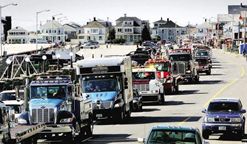 Photo: The New Hampshire Towing Association parade at Hampton Beach on Sunday attempted to break the world record record for the parade with the most tow trucks. Image by Portsmouth Herald Photo/Cheryl Senter) -enlarge photo

Flatbeds; wheel-hook tow trucks; massive, 72-ton big-rig wreckers: Every type of tow truck imaginable rolled single file down the streets of Hampton.

The parade could be heard long before it was seen, and children, along with a few parents, pumped their fists, encouraging drivers to sound off with airhorns and sirens.

After the parade, the NHTA hosted a skills competition and a "beauty" contest. According

The previous world record for the largest tow truck parade was set in Wenatchee, Wash., in 2004, with a total of 83 trucks.

NHTA President Rene Fortin said his group unofficially broke the record in 2005 with 235 trucks, but because that parade didn't fit the Guinness Book's requirements for a tow truck parade, the record wasn't accepted.