Fastest coast to coast round trip -world record set by US pilots

[April 19] SAN DIEGO, CA, USA--Johan Nurmi and co-pilots Charles Martin, Dane Larsen and Travis Reid ("World Record Helicopetr Team") , just broke the world speed record for making a coast to coast round trip in a Robinson R44 Raven helicopter.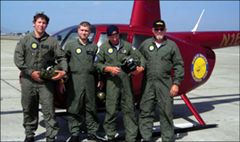 Photo: The world record helicopter team. The four-member crew flew coast to coast round-trip in 70 hours, breaking the previously held record by more than 18 hours.

The four-man crew made the trip in 70 hours, breaking the old record set by Canyon Laker Paul Chennette by over 18 hours. The trip included 20 fuel/food stops and several unexpected delays.

The flight distance was about 4,000 nautical miles, or about a fifth of the distance around the globe, Nurmi said.

The teamís landing at Brown Field was heralded by banners, balloons and cheers by friends and family.

The previous world record for the flight is 88 hours and 43 minutes.

Family and friends had been able to view the teamís progress through a tracking system connected to Daneís cell phone. Their position, altitude, speed and heading were posted every few minutes on a tracking website.

This showed their path on a hybrid (satellite/street) style map (Google Earth), which could be viewed from far away to very close-up. The teamís path was monitored by people around the world.

Currently, Dane is looking for sponsors to support him on another record flight attempt.
The World Record Helicopter Team, which was founded by Nurmi, is planning to circumnavigate the world in a helicopter. They hope to break the speed record and at the same time draw attention to the Christian Foundation for Starving Children.