New world record:
Highest air on a quarterpipe-Ronnie Renner sets world record


Highest air on a quarterpipe-world record set by Simon Dumont

[April 12] BETHEL, ME, USA--Skiing prodigy and X Games star Simon Dumont established a new world record for highest air on a quarterpipe as he launched 35 feet into thin air at his home resort of Sunday River in Maine.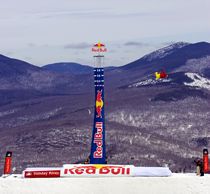 Photo: The freeskier Simon Dumont setting a world record by soaring 35 feet above a quarterpipe ramp / Christian Pondella-Red Bull Photofiles
(enlarge photo)

A two-time X Games gold-medal winner known for big air, Dumont achieved the feat on a 38-foot ramp specially constructed of snow for his record attempt. In the air he pulled a cork 900, an off-axis spin of two and a half rotations.

The previous record of 32.5 feet above a quarterpipe was set by the snowboarder Terje Haakonsen in 2007.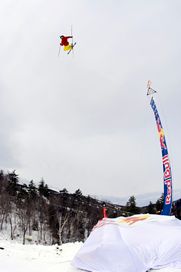 On the world's tallest quarterpipe (38-feet tall and 78-feet wide) custom-built by Snow Park Technologies, and with a representative from FIS (Fédération Internationale de Ski ) on location to document the record-breaking moment, Dumont beat previous record holder Terje Haakonsen's 32 feet 6 inches during his last day of attempts.
(enlarge photo)

Soaring a breathtaking 73 feet above the ground -- more than a seven-story building -- this hometown hero sent the intimate crowd of family and friends into a frenzy as they witnessed the record-breaking moment.

"I wasn't sure how this would all go down today with the wind and some healing injuries I've been nursing," says Dumont. "As I was dropping down the hill into the run-in it just hit me that this would be it -- the rest is history."

Although Snow Park Technologies has built countless quarterpipes over the years, this was the first developed specifically for a single athlete.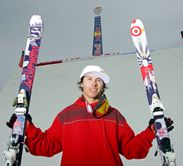 "Building a quarterpipe for just one athlete exactly the way he wants it is unique for us," says SPT's Corley Howard.

"I'm super excited to be a part of this project ... after seeing Simon get huge airs in the halfpipe at the X Games, we were hoping he'd go for the record."

(enlarge photo)

After two days of framing the quarterpipe with a snowcat, and three days of precisely hand shaping the 38-foot wall from the top down, Howard along with fellow SPT builder Jeremy Carpenter had done all they could do. It was time for Simon to get to work.

At 9 a.m. Friday morning Simon showed up with his game face on and was ready for his final attempts. After an hour of repeatedly hitting the quarterpipe, at 10:12 a.m. EDT Dumont hiked an additional 15 feet up the hill to gain more speed. Simon crouched into a tucked position going 55 mph down the in-run and not only launched 35 feet into the air, but spun a 900 in the process (a trick where the athlete spins 2.5 complete rotations in the air).

So, with the mission accomplished for 21-year-old Simon Dumont, what's next on the horizon? "I plan to go film for the rest of the season, then take a good vacation this summer before refocusing on next year," says Dumont.
Photo credit: Christian Pondella-Red Bull Photofiles

SIMON DUMONT JOSS EDIT Video