NEW WORLD RECORD
Longest movie-watching marathon-world record set by Suresh Joachim and Claudia Wavra

Most movies watched -world record set by Ashish Sharma

[June 20] MATHURA, India--Ashish Sharma has set a world record for watching movies non-stop for 120 hours.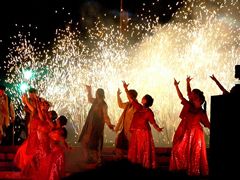 Each movie lasted around 90 minutes and Ashish was permitted a 10 minute rest after each film. He was checked by a doctor every four hours.
(enlarge photo)

In an interview with the newspaper, Ashish said: "By chance, I saw that someone had set a record in watching films and I thought I would break it. More so because I love watching films."
Ashish Sharma, from the northern Indian state of Uttar Pradesh, watched over 48 Hindi films over a period of five days, breaking the previous world record of 117 hours and four minutes set by a German woman, Claudia Wavra.

Sharma is known in Mathura as memory master. He is planning a book on improving one's memory for the youth.

The movie enthusiast said that his attempt to enter the Book of World Records was to put the name of his home town Mathura "on the World map."