Biggest individual supporter of schools-world record set by Husnu M. Ozyegin

[April 8] ISTANBUL, Turkey--Since 2000, Husnu M. Ozyegin has spent more than $50 million of his own money, building 36 primary schools and girls' dormitories in the poorest parts of Turkey.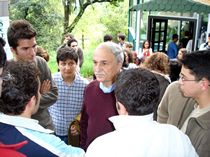 Photo: Husnu M. Ozyegin has spent $50 million building 36 primary schools and girls' dormitories in the poorest parts of Turkey.

(enlarge photo)

Next to the Turkish government, Mr. Ozyegin is the biggest individual supporter of schools in the country — and an official from the education ministry has told him that his market share is increasing.

He typically works 11-hour days, not solely from his suite of offices but also from his car, plane or boat, checking in on his far-flung operations in Turkey as well as Russia, Romania and China.

The founder of a mid-tier corporate bank called Finansbank, he cashed in on a rush of interest by foreign financial institutions in Turkish banks last year and sold a controlling stake in his bank to the National Bank of Greece, receiving $US2.7 billion in cash.

Flush with money and ambition, he is doing all that he can to lift Turkish educational standards at the primary and university level.

When Ozyegin visits a school, he is frequently met by the district's mayor, a representative from the education ministry and various other local notables. His visits, like his business meetings, are swift and to the point - a sweep through the school's halls and a barrage of questions directed at school officials.

For Ozyegin, becoming one of the richest men in the world has brought its own pressures. He gets many letters each day. Some ask him to erase the debt they have on their Finansbank credit cards.

Others are more poignant - recently he received a letter from an admirer in jail asking for a pair of shoes and a suit, a request he plans to honour.

Like some who have made so much, Ozyegin likes to keep score. Warren Buffet may be the richest man in the world, but Ozyegin says his wealth has risen faster.

Becoming a billionaire is "a great feeling, but your responsibilities increase," said Turkey's Husnu Ozyegin

Husnu M. Ozyegin: "I'm giving away 2 per cent of my net income every month," he says. "I don't think Bill Gates is doing that."

"I'm first generation - that gives me satisfaction," he said. "Getting to the top is not so easy; staying there is more difficult."