Most model aircraft flown simultaneously-SEFF sets world record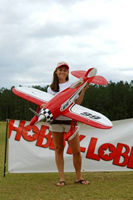 [May 21] ATLANTA,GA, USA--A new World Record was set at the Southeastern Electric Flight Festival, near Altlanta Georgia, U.S.A. for the total number of R/C model aircraft flown at the same time within a period of one minute: 100 planes.

Photo: Jim T. Graham (enlarge photo)

Ric Vaughn was event co-coordinator for the attempt which exceeded the standing record of 49 models (set in South Africa) with no less than 113 launches.

100 planes remained in the air for the required time.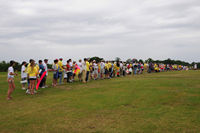 "During the range check we had a total of 59 2.4GHz systems on and bound at the same time" said Vaughn, "Sky space was not a problem, most participants said they had plenty of room to fly, but there was one midair, which cost us a plane.
All and all, it went way better than I thought it would." (enlarge photo)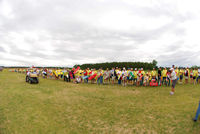 Photo:Ric Vaughn

Note: this page will be updated with all the names of the world record breakers, as soon as we receive the list. All 100 names will be included into the world record certificate, too.
Photo:Ric Vaughn
(enlarge photo)