Longest chopsticks-world record set by Marco Polo Hotel

[April 9]DUBAI, UAE--At 22.5 feet long, the pair of chopsticks made by Marco Polo Hotel set the world record for the Longest wooden chopsticks.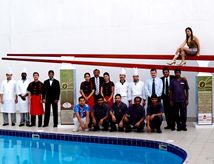 Marco Polo Hotel Vice President Sunil Marya said it took the hotel staff a month to prepare their record-breaking pair of chopsticks.

(enlarge photo)

"I can say that all of our team's effort has paid off well," Marya said.

Ravi Dhar, chief engineer of Marco Polo Hotel, said staff members made sure that the pair of chopsticks measured up to everyone's expectations.

"We actually made two pairs to make sure that we will deliver the best and we are so pleased with the result, especially when we have been featured online internationally for beating the Shenyang record," Dhar said.

Marco Polo Hotel's pair of chopsticks beat the record of the former record holder from China's Shenyang Province.