Sunday, July 7, 2013

Largest key lime pie: Florida festival breaks Guinness world record (VIDEO)

MIAMI, FL, USA -- Bakers in Florida prepared a 2.5-metre key lime pie at Key West's Key Lime Festival; the world's largest key lime pie contained 5,760 key limes, 91 kg of graham crackers and 208 litres of condensed milk; it was big enough to feed 1,000 people and to set the new world record for the Largest key lime pie, according to the World Record Academy: www.worldrecordacademy.com/.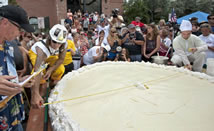 Robert Cintron (L) takes notes on a clipboard while Paul Menta reads a tape measure used to determine the diameter of a giant Key lime pie. Photo: Rob O'Neal/Reuters. (enlarge photo)

The Guinness world record for the largest cheese pie weighed 862 kg (1,900 lbs 6 oz) and was made by the students of Educational Group AKMI in Thessalonica, Greece.

Guinness World Records also recognized the world record for the largest pumpkin pie; it weighed 916.25 kg (2,020 lb) and measured 3.7 m (12 ft 1 in) long. It was made by New Bremen Giant Pumpkin Growers in Ohio, USA.

The inaugural Key Lime Festival was conceived by Key West author and baker David Sloan, who penned "The Ultimate Key Lime Pie Cookbook."

"People like to say nothing's more American than apple pie, but down here in the Florida Keys, we like to say nothing's as Keysey as Key lime pie on the Fourth of July," festival co-founder David Sloan said in a statement.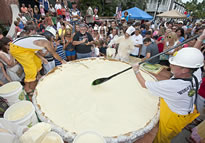 Photo: Chefs Paul Menta (L) and Jim Brush (R) put finishing touches on a giant key lime pie in Key West, Florida. The world's largest key lime pie contained 5,760 key limes, 91 kg of graham crackers and 208 litres of condensed milk. Organizers said it was big enough to feed 1,000 people. Photo: Rob O'Neal (enlarge photo)

The World's Largest Key Lime Pie contained 5,760 key limes, 91 kg of graham crackers and 208 litres of condensed milk. Organizers said it was big enough to feed 1,000 people.

After the unveiling, slices of the pie were sold to benefit the historic Key West Firehouse Museum.

Finding the eight-foot diameter pan to bake the monster pie was the biggest challenge. Oh, and adapting a recipe meant for a few pies to one giant sweet concoction that weighed in at 1,000-plus pounds.

Related world records:
Largest Pastry: Spanish Bakery breaks Guinness world record

Largest biscuit sticks mosaic: Ezaki Glico breaks Guinness world record

Largest blueberry pie: Russian bakers set world record (VIDEO)

Largest cherry pie: George, Washington sets world record (VIDEO)

Largest meat and potato pie: Wildwood chefs set world record

Largest cottage pie: Welwyn one tonne pie set world record

Hottest Pie: Ron Bruns of Bremen Patisserie

Largest Pumpkin Pie - New Bremen Pumpkinfest