Most functions on a penknife-world record set by Wenger knife

[Nov 22]ORANGEBURG, N.Y.--A Swiss Army knife that weighs nearly three pounds has set the world record for having most functions on a penknife-the latest version has 87 tools and at least 115 uses.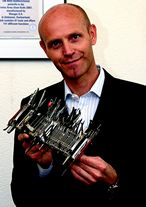 Wenger North America, the company that makes the multi-purpose tool, has come out with a model so unique it's been listed in the record books as the implement that has the "most functions on a penknife."

(enlarge photo)

"Basically, they took every implement they ever put in a Swiss Army knife and combined them in this one piece," said company spokeswoman Jennifer Voss.

The knife includes a dozen screwdrivers including one specifically for gun sights, fish scaler, laser pointer, magnifier, 4 grafting blades for the gardener, a cuticle pusher, toothpick, nail file, key ring, shoe spike adjuster and a flashlight.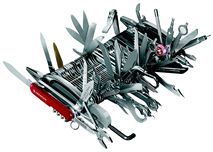 The knife boasts 87 tools and more than 110 different uses. Among them: cleaning your cuticles, measuring a tire tread, spiffing up a golf club, adjusting a bicycle spoke, turning a screw, acting as a key ring, scaling a fish, working as a magnifying glass, grafting plants for gardeners or being employed as a toothpick - just to name a few. It also has a flashlight, a laser pointer, a golf shoe spike wrench (don't ask), and special screwdrivers made specifically to adjust gunsights.
(enlarge photo)

For the extremely avid gardener, there are four different blades for grafting one plant onto another: the grafting blade with a hooked end, the grafting blade with a narrow belly, the standard grafting blade without a belly and the narrow grafting blade without a belly. The "belly" is a bulge along the blade, said Wenger spokesman Dennis Piretra.

The knife is manufactured in Delemont, Switzerland by Wenger.
It measures 8.75 x 3.25 inches, weighs almost three pounds, and at $1,200, it's pretty much a collector's item, but 450 have been sold in its first year, Voss said.
.
To see what else this remarkable tool can do, click here.
[ Submit a world record ] [ World Record Certificate]
[ Book of World Records ] [ World Records Store ] [ Club ]


Strongest Ear-Lasha Pataraia


Fastest talking female-Fran Capo


Largest passenger plane-Airbus A380


Fastest 10K race-by Hillary Kimaiyo


Fastest board breaking-record set by Mitch Ellis