Most expensive newspaper copy-Romanian newspaper sets world record

BUCHAREST, Romania-- The "Auroch and the Eagle" ("Zimbrulu and Vulturulu"), bought for 830 000 Euros by Joseph Hackmey. sets the world record for the most expensive newspaper copy in the world.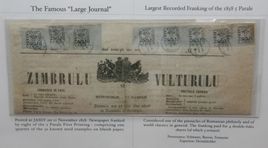 Photo: The "Auroch and the Eagle" newspaper was printed in Iasi (Romania) in 1858 and was sent by mail in 1858 and paid with no less than 8 of the priceless Auroch's head stamps. (enlarge photo)

At the last auction, held in Geneva by the "David Feldman" auction house, the piece had a starting price of 500.000 Euro and was sold for 700.000 Euro to Joseph Hackmey. With fees and commissions involved, the final price reached 829.500 Euros.

The amount made The Auroch and the Eagle ("Zimbrulu and Vulturulu") the most expensive newspaper copy in the world.

Hackmey, who spends much of his time in Britain, has been involved in property deals and made a name for himself as an art collector. Hackmey took over his father's Israeli insurance business and Israel Phoenix Assurance was sold in 2002, netting the family £160m.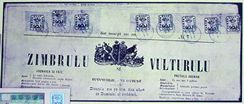 It has become the most valuable copy of a newspaper and the most precious philatelic piece (it is also a collection of postal marks) from a random happening- as the Romanian Post representatives said. (enlarge photo- photo courtesy Romanian Post)

The famous copy was sent in November 1858 with destination Galati. Because the package was weighting very much, on the copy were applied 8 postal marks Bull Head (Cap de Bour), one of the most rare and appreciated stamp. At Galati it was sold to a bookseller and collector of stamps.

This is the most famous set of stamps and postal marks applied on a correspondence.

The newspaper with a value of over 830 thousand Euro is back in Romania after more than 2 years in London, in a British collection, and dozens of other years in a bank in Switzerland.