Largest Flag-world record set by Israeli Flag

[Nov 26]MASADA, Israel--The record for the world's largest flag now belongs to an Israeli banner produced by a Filipino evangelical Christian.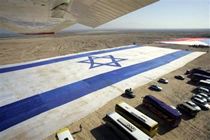 The huge blue and white flag, measuring 2,165 feet long and 330 feet wide and weighing 5.7 tons, breaks the record for the world's largest, according to the Israeli Ministry of Tourism.
(enlarge photo)

The flag was unfurled Sunday beneath the ancient Jewish desert fortress of Masada.

Filipino entrepreneur Grace Galindez-Gupana said she decided two years ago to produce a giant Israeli flag as a testament to her love for Israel and the Jewish people and as a celebration of 50 years of diplomatic relations between the Philippines and Israel.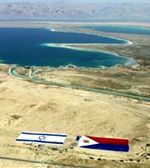 "God spoke to me in thunder and lightning," Galindez-Gupana said. "The Lord said, 'Make the flag of Israel, the standard of my people.'" "This is a tall order," she said, breaking down in tears.
(enlarge photo)

The Israeli flag was accompanied by a giant Philippines flag — huge, but not quite as big. It weighed about 4.2 tons.

Large stones anchored both flags as they billowed in the desert winds.

There are about 31,000 Filipinos in Israel, most of whom are foreign workers, said Gilberto Asuque, consul general of the Philippine Embassy in Israel.

"This flag expresses the friendship between the Philippines and the state of Israel, and also the friendship between Jewish and Christian communities," said Shaul Zemach, director of the Israeli Ministry of Tourism.

The second largest flag in the world would be the American "Super flag", with the size of one football field.

Nov 26, 2007

Israeli Flag video


Masada-the Legendary Jewish Fortress, Israel



Peter O'Toole and Peter Strauss star in the Emmy Award-winning mini-series abo...ut the Romans' siege of the Jewish fortress at Masada. In first century A.D., Flavius Silva (Peter O'Toole), commander in Roman Palestine, leads his forces in combat against the remaining Jewish Zealots who have taken refuge in the seemingly impregnable fortress of Masada.
There, the engineering and military might of Rome faces the passion and ingenuity of Eleazar Ben Yair (Peter Strauss) and his people. Based on the novel "The Antagonists" by Ernest K. Gann, this 4-part mini-series was shot on location in Israel. This six-hour epic is now available for the first time ever on DVD. Product Details: http://www.kochvision.com/product.aspx?number=74195264


Israel - Masada video


[ Submit a world record ] [ World Record Certificate]
[ Book of World Records ] [ World Records Store ] [ Club ]


Strongest Ear-Lasha Pataraia


Youngest Skydiver-Valentina Mihanciu


Fastest race around the 'World'-Rohan Veal


Largest passenger plane-Airbus A380


Most 10 scores at Olympics-Nadia Comaneci


Fastest board breaking-record set by Mitch Ellis