Largest aerial banner -world record set by Falcon Aviation Services

[Dec 3]ABU DHABI, UAE--Falcon Aviation Services LLC (FAS), a wholly owned company of HH Dr. Sheikh Sultan Bin Khalifa Al Nayhan, Member of the Executive Council, took to the skies over Abu Dhabi on UAE National Day to set a new world record for the largest aerial banner ever flown.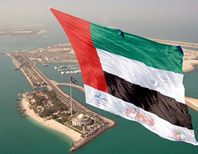 (enlarge photo)

Measuring in excess of 50,000 square feet in size, the banner was towed under a Bell 412 Aircraft supplied by Evergreen Helicopters who are current partners with FAS in providing Search and Rescue services to the UAE Armed Forces.

The previous record had been held by IKEA in Australia, who flew a banner measuring 47,000 square feet last year.

The banner depicting the UAE flag was clearly visible from up to 20 kilometers away and the route was specifically designed to take the flag right across the capital making it visible to virtually the entire population of the city of Abu Dhabi.

The idea for the sky high celebration on UAE National Day came initially from HH Sheikh Sultan and the Chairman of FAS, Captain Salem Al Kayoumi, after FAS had initiated operations to conduct aerial banner towing as part of its growing aviation business. "What better way to celebrate our nation's birthday than to proudly display the UAE Flag not only to Abu Dhabi and the UAE, but to the rest of the world as well," said Captain Al Kayoumi.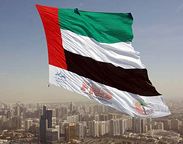 The banner was supplied by Heli Banners, a UK based company who supply Aerial Banners for marketing purposes using the world wide patented Helicopter Overcity Banner System (HOBS) which enables these huge banners to be flown safely over built up areas.
(enlarge photo)

The HOBS system has undergone extensive evaluation by the UAE General Civil Aviation Authority (GCAA) who have assessed and approved the FAS aircraft, the HOBS system and the procedures for use in the UAE.

The record breaking flight was jointly sponsored by FAS, Marina Mall and the Abu Dhabi International Marine and Sports Club (ADIMSC). In a joint response the sponsors concurred that this was yet another first for the UAE and they were all proud of their contribution towards developing an even greater sense of patriotism.

In addition to their Abu Dhabi based activities, FAS have also partnered with Trident Aerial, a Dubai based company who specialise in event marketing and corporate advertising using the new HOBS Banners which will be flown exclusively by FAS. "In partnership with FAS we have created a new marketing concept for the UAE, which in terms of physical mass visibility simply has no equal," stated Rob Appleyard, Marketing Director at Trident Aerial.



[ Submit a world record ] [ World Record Certificate]
[ Book of World Records ] [ World Records Store ] [ Club ]


Strongest Ear-Lasha Pataraia


Youngest Skydiver-Valentina Mihanciu


Fastest race around the 'World'-Rohan Veal


Largest passenger plane-Airbus A380


Fastest 10K race-by Hillary Kimaiyo


Most 10 scores at Olympics-Nadia Comaneci


Largest Simultaneous Thriller Dance


Fastest board breaking-record set by Mitch Ellis

Longest Unescorted oceanic crossing in a flat boat