Biggest beach towel- world record set by Cyprus Holidaymakers

[June 12] PROTARAS, Cyprus --Aeolos travel and bookcyprus.com organized successfully a unique beach party on Sunday 1st June, at the beautiful beach of Fig Tree Bay in Protaras where they unveiled and presented the biggest beach towel in the world.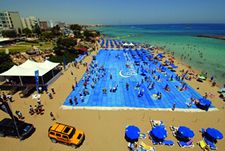 Covering 1900 square metres of the sandy beach, the towel measured 64 x 31 metres and set the world record for the biggest beach towel.
(enlarge photo)

It took the efforts of 40 people to lay down the 1,055kg beast onto the white sands of Fig Tree Bay.

"Being a tourist destination, we wanted to promote the island and do something connected with sun, sea and sand," Aeolos Sales and Marketing Executive Maria Procopiou said.

The towel is made of 100 per cent cotton, with 30 million metres of thread used in its construction. It was manufactured in both Cyprus and China and assembled by the Covotsos Boutique in Limassol over 18 days.

"To add a little humour, there is even a washing label sewn in," said Procopiou, adding that the towel is blue in colour and features the bookcyprus.com logo.

"Paralimni Mayor Andreas Evangelou offered the beach to us free of charge, and I would like to thank him as it is very difficult to get permission to stage an event like this on a blue flag beach," she said.

Photo: Biggest beach towel (enlarge photo)

The gigantic azure-blue towel was the focal point of the unique beach party organised by Aeolos Travel and bookcyprus.com at the beautiful beach of Fig Tree Bay in Protaras.

The event was covered by a live radio link, provided by Energy radio 107.6, and featured competitions to win special prizes offered by the party's organisers and sponsors.

The celebrations lasted from morning until sunset where highlighted by an all day entertainment programme which included local traditional dances, live radio link by Energy radio 107,6 featuring special prizes offered by the organizers and their sponsors, musical performances by the Greek Hip hop band Ominus and Dj S and Mike Hadjimike with the Portuguese Bandulu Dub and live dancing performances by Antigoni Tasouri School of Ballet and Dance.

As a memento of their Cyprus holiday every participant will have a small piece of the record-making beach towel sent to their home.

The towel will be cut into small pieces and will be sent by mail to every person who took part in the project - including tourists who left their names and addresses at a special stand set up by the municipality.

Sponsors of this event were the Municipality of Paralimni, Movie Couriers, Hummer Cars, Capo Bay Beach Hotel, Cyprus Airways, and CTO. Media sponsors were Sigma TV, Radio Energy 107.6 and City Free press newspaper.

Commenting, the Mayor of Paralimni said that the event had been a great publicity coup for Cyprus, gaining worldwide attention.

The previous record was set in Hermosa Beach, California, in June 2006 with a towel measuring 48 metres long and 23 metres wide.