Largest cheering team-world record set by McDonald's

[April 24] BEIJING, China--Chanting the slogan "Wo jiu xihuan Zhongguo ying," which roughly translates to "I love it when China wins," over 1,200 young people selected from a nationwide campaign danced in unison for five minutes at the National Olympic Sports Center, setting a world record.


McDonald's, a worldwide Olympic partner for the Beijing Olympics, mobilized the world's largest cheering team for the Beijing Olympics on Wednesday.
(enlarge photo)

Over one million people have responded to McDonald's campaign to cheer for the Beijing Olympics since December 2007. Five were chosen as leading members of the cheering team.

McDonald's says its cheer is part of a wider effort to make the brand's restaurants into places for people inside China to celebrate -- and even gather to watch -- the Games.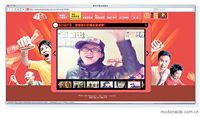 Photo: McDonald's has had nearly 1.3 million people register to join the cheering team in a nationwide contest.

(enlarge photo)

Many of McDonald's restaurants in China have televisions. "We are an international company, no doubt about that," says Ms. Cheung. "What we are doing is being locally relevant, rather than getting into the arena of playing up nationalism."

The Chinese see these Games as a serious affair. "Chinese people have gone through a lot in the past," says Phyllis Cheung, director of marketing for McDonald's in China, quoted by the Wall Street Journal. "They have very, very strong patriotism. ... Everywhere, you see people are excited."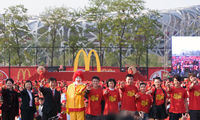 Participants cheer for new world record. (enlarge photo)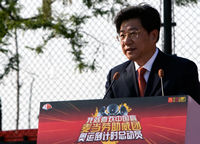 Zhang Haifeng, spokesman for the General Administration of Sport, speaks at the rally. (enlarge photo)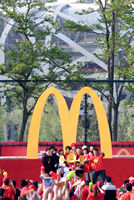 The invited guests launch the ceremony to start the rehearsal.

(enlarge photo)
The director of BOCOG's Marketing Department, Yuan Bin, and a number of famous Chinese athletes, including Gao Min, Hu Jia, Yang Ling and Mo Huilan, took part in the activity. Yuan said it is evident that more people are emulating McDonald's efforts to root for the success of the Olympics.

During the Atlanta Games in 1996, McDonald's has led a cheering campaign a campaign called "U.S. wins, you win," in which customers could get free prizes if they collected game pieces that matched with medals won by American athletes.

"Nationalism is not a strategy," says Michael Wood, the China CEO of Publicis Groupe's Leo Burnett ad agency, which works for both McDonald's and Coke in China. "It is a shared value, which when executed in the right way by the right brand, can create a powerful connection with people."

The challenge now for many multinational companies isn't figuring out how to appear patriotic in China, but what message to send in the rest of the world.

Publicis media buying agency ZenithOptimedia estimates that advertisers will spend an extra $3 billion on the Olympics this year -- of which $900 million will be spent in China. China is already the fourth-largest market in the world for Coke, after the U.S., Mexico and Brazil, and it is in the top 10 for McDonald's.