Tuesday, July 24, 2012

Most expensive cupcake: The Golden Phoenix sets world record (PICS & VIDEO)

DUBAI, UAE -- The opening event at The Dubai Mall saw the unveiling of a whopping $1,010 (Dh3,700) cupcake which is coated in edible 23 carat gold sheets, which sets the world record for the Most expensive cupcake, according to the World Record Academy: www.worldrecordacademy.com/.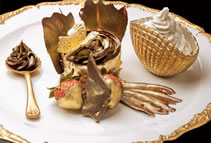 Photo: The Golden Phoenix edible cupcake, the world's most expensive cupcake, on display at Bloomsbury's in The Dubai Mall. Priced at a whopping Dh3,700, The Golden Phoenix is coated in edible 23 carat gold sheets and is up for sale. (enlarge photo)

The Phoenix was unveiled at the cupcake franchise Bloomsbury's at the Dubai Mall

The Guinness world record for the largest cupcake weighs 1,176.6 kg (2,594 lb) and was achieved by Georgetown Cupcake (USA) at Georgetown Cupcake's national shipping headquarters in Sterling, Virginia, USA.

Guinness World Records also recognized the world record for the most expensive dessert, set by The Frrrozen Haute Chocolate ice cream sundae; costing $25,000 (£12,000), it was added to the menu of the Serendipity 3 restaurant, New York, USA.

The concept of Bloomsbury's was created by Shafeena Yusuff Ali, daughter of Yusuff Ali MA, Chairman of the EMKE group, which also owns and operated the Lulu chain of hypermarkets and supermarkets in the Gulf region.

After several months of speculation by avid food bloggers, the bakers rolled out the most expensive 'edible' cupcake, The Golden Phoenix on an Italian, Villari 24 carat gold plated Maria Antoinette Princess Tea Trolley and presented on 24 carat gold painted Empire Morning Cake Stand with Cloch.

Vinay Lall, General Manager of Tablez Food Company, owners of the Bloomsbury's franchise in Dubai, said: "We have seen people attempt the most expensive cupcakes before, however those cupcakes are not edible as they are encrusted with diamonds and other components."

"That is why we decided that we would take the realistic approach and present the most expensive 'edible' cupcake in the world using the real meaning of the words 'let them eat cake'."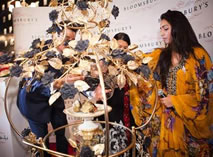 Photo: The Golden Phoenix unveiled. (enlarge photo)

Ali spent weeks perfecting the taste of the recipe and décor of the cupcake and finalised the five expensive ingredients.

Basic Ingredients of "The Golden Cupcake"
Flour - Doves organic flour from the United Kingdom
Butter - Rachels organic butter from the United Kingdom
Chocolate - Premium Amedei Porcelena cocoa from Italy
Vanilla Beans - Gold Ugandan high quality vanilla beans
Edible Gold Sheet - 23 carat gold

Ali said: "Our aim is to redefine the cupcakes in the Gulf, why can't a cupcake taste as good as it looks and look as good as it tastes".

Bloomsbury's opened its first boutique café in June 2011 at the Al Wahda Mall, Abu Dhabi followed by their second store at Mushriff Mall, selling a record 225,013 cupcakes in just under a year.

Related world records:
Cupcake world records

Dubai world records

Most Cupcakes on a Display Tower: Charity event sets world record (Video)

Most expensive banana pie: Jerry Mumma sets world record

Most expensive pizza: Steveston Pizza Co. sets world record (PICS)

Most Expensive Lunch: Warren Buffett charity lunch sets world record (VIDEO)

Most Expensive Hot Dog: Hot Dog Mike Juiliano sets world record (PICS & VIDEO)

Most expensive tuna fish: $736000 tuna fish sets world record (Video)

Most expensive mince pie: Andrew Stellitano

Most expensive hot dog: The Brockton Roxs (Video)

Most Expensive Kebab: $1227 kebab (Video)

Most expensive hot dog: Serendipity 3

Most Expensive Ham: Manuel Maldonado

Most Expensive Seafood Hamper: The Fish Society

Most expensive Schnitzel: 'Golden Imperial Schnitzel'

Most expensive pot: Fissler's saucepan

Most expensive Burger: Burger King

Most expensive ice cream sundae: Serendipity 3

Most Expensive Watermelon: Densuke watermelon

Most expensive barbecue: BeefEater

Most expensive display wedding cake: Dallas Bridal Show

Tuesday, March 21, 2017 7:42 AM