Largest Kurta-world record set by Pakistani craftsmen

[Feb 4]KARACHI, Pakistan--A 101-foot-long kurta made by Pakistani craftsmen has been certified as the largest such garment by the Book of World Records.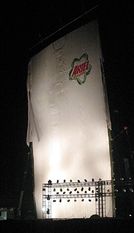 Photo: The largest kurta measured 30.78 m (101 ft) long and 18 m (59 ft 3 in) wide.The kurta was made by Ariel Pakistan in Karachi,and displayed on 3 January 2008. Photo by Raja Islam
(enlarge photo)

The kurta, large enough to be worn by a 175-foot tall person, was unveiled at a public ceremony.

Procter and Gamble, which sponsored the kurta, described it as a symbol of national unity as the garment worn by people across Pakistan captures the culture and identity of the country.

"The kurta weighs 800 kg and took a team of 50 hard working professional tailors 30 days to put together."

The kurta was measured last month by professional experts of SGS Pakistan, a local certification firm.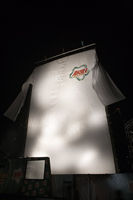 Fashion designer Deepak Perwani, who embellished the giant kurta, said: "The kurta is an intrinsic symbol of Pakistani attire, and (this garment) has successfully put it on the global map.
A kurta represents the essence of what we are and defines our individuality in today's world.
This record will go a long way in creating positive recall for Pakistani fashion in the international community."
(enlarge photo)
Gul Ahmed Textiles provided over 800 yards of cotton to make the kurta. Syed Hassan Bokhari, a representative of the firm, said, "This unique idea required a very durable fabric that could survive the challenges of strength because of its size. We used the best cottons to weave the special fabric for this project."



The world's largest kurta will later be used to create smaller kurtas that will be donated to children's homes run by the Edhi Foundation, a reputed NGO.
(enlarge photo)

Some interesting facts about the Ariel World's Largest Kurta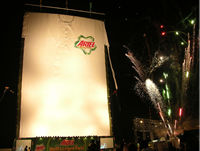 · The Kurta is 101 feet tall and 59 feet 3 inches wide. Each sleeve is almost 57 feet long
· It took a team of 50 hardworking professional tailors a period of 30 days to make the Kurta
· The Kurta, is made of 800 yards of cotton blend fabric provided by Gul Ahmed Textiles
(enlarge photo)
· Our very own famous designer Deepak Perwani has added subtle yet stylish adornments to the Kurta to add to make it trendy while still being traditional.


[ Submit a world record ] [ World Record Certificate]
[ Book of World Records ] [ World Records Store ] [ Club ]



Fastest Jump Shooter in Billiards-Rocky Lane


Largest miniature railroad-Miniatur Wunderland


Fastest race around the 'World'-Rohan Veal

Most 10 scores at Olympics-Nadia Comaneci

Fastest board breaking-record set by Mitch Ellis