Longest wheelbarrow journey-world record set by David Baird

SYDNEY, Australia -- David Baird, 65, a British pensioner, ran from Perth in Western Australia to Sydney on the east coast while pushing a wheelbarrow for the whole 112-day , 2,572 miles (4115km) journey-setting the world record for the Longest wheelbarrow journey.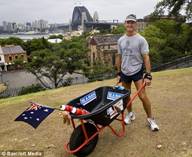 Photo: Mr Baird arrives in Sydney Harbour where he then ran across the bridge towards the finish line in Manly, northern Sydney. Photo: Barcroft Media

Pushing a bulk standard garden wheelbarrow with no modifications, Mr Baird suffered not even one puncture nor had any mechanical failures.

The fit looking 65-year-old said he was feeling :amazingly good'', considering he had travelled a massive 4115km on foot.

The keen marathon runner said the biggest battle he'd faced was traffic. "I've had four months of trucks and cars looming towards me within arm's length . . . it was pretty scary," he said.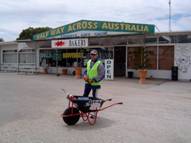 'Twice I had trucks swipe the side of the barrow and four or five times I'd have to dive into the bushes for safety and the barrow would end up thrown in to the air by the up-draft of the trucks.

There were several times I had to sit down and compose myself.

Taking in about 70 towns along the way, Mr Baird said he pushed the wheelbarrow for between 10 and 12 hours a day. "It would take Joanne (his partner) to take my shoes off,'' he said. "She was my crew member, my one and only crew member.''

His whole run was the equivalent of one hundred 'full marathons' in just 112 days.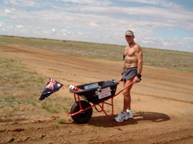 'I've never been much of a drinker but I have to admit that I've acquired a taste for beer on this run. 'After a long hard day on the road a freezing cold beer is just heaven,' he said.

The 65-year-old is raising money and awareness for breast and prostate cancer charities and had more than £9,000 thrown into the barrow along the way.

Mr Baird is no stranger to competitive sport. He represented England as a schoolboy sprinter and also in rugby union; and the South of England in gymnastics and judo.

The idea for his wheelbarrow challenge came from The Anakie to Sapphite wheelbarrow race in Queensland.

Organised by locals, the 18km race is organised as a reminder of the gem prospectors who flocked to the area in Australia's early years.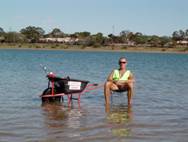 Baird, originally from Western-Super-Mare in Somerset, set out from Perth in Western Australia on September 21 and finally reached the Pacific Ocean at Manly Beach.

So far Mr Baird has raised about $20,000, which he will give to the Breast Cancer Foundation of Western Australia and the Prostate Cancer Foundation of Australia.
The former gem field and mining worker said he intended on remaining in Sydney for another two or three weeks, during which time he would attempt to raise more funds.

Sponsors:
- John Holland Group /One of Australia's leading construction and services providers;
- Kelso , A Hills Company;
- Rema Footwear / Have provided Dave and Jo with all the footwear for the event
- Steel Blue / Quality safety boots for a day on the job, or stylish shoes to paint the town red

Donations may be made by visiting the Aussie Dust web site, www.aussiedust.com.

Related world records:

Youngest to solo airplane and helicopters on same day-world record set by Errick Smith

Longest Stand Up Paddle board journey-world record set by Justin DeBree

Fastest team travel to the South Pole-team impossible2Possible sets world record

Fastest journey to the South Pole-world record set by Todd Carmichael

More travel world records

Friday, January 16, 2009