Tightest spinning of a car-world record set by Renault Twingo

[Jan 16]BIRMINGHAM, UK--Renowned stunt driver Terry Grant has set a new World Record in the feisty Renault Twingo.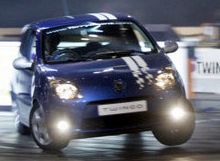 The sell-out crowd in the Live Action arena at Birmingham's National Exhibition Centre saw Terry reverse the Twingo and spin it through barriers that were just 378 centimetres apart – only 18 centimetres more than the length of the car.
(enlarge photo)
Grant said: "For this stunt the car needs agility, visibility and pinpoint accuracy; best of all, the Twingo ran perfectly for up to six shows a day and lots of practice runs. "You couldn't drive many cars home after that sort of punishment!"

The crucial measurement for Terry was the diagonal size of the Twingo. At 370 centimetres, this left Terry with just four centimetres gap between the barriers!

The crucial measurement for the stunt was the diagonal size of the Twingo – 370cm – which left Grant with 4cm a side between the barriers

He performed the stunt 12 times over the four days of the show, reducing the gap between the barriers and breaking the World record each time, eventually beating the previous mark by more than 150cm

Terry Grant has been performing stunts around the world for over 12 years and is widely regarded as one of the greatest performers in the business. This is his 16th World Record.



[ Submit a world record ] [ World Record Certificate]
[ Book of World Records ] [ World Records Store ] [ Club ]



Fastest Jump Shooter in Billiards-Rocky Lane


Largest miniature railroad-Miniatur Wunderland


Fastest race around the 'World'-Rohan Veal