Longest triple jump-world record set by Shirley Peterson

[Jan 3]Christchurch,New Zealand--Shirley Peterson, 79, jumped 6.3m on her fourth jump at an an inter-club athletics meeting at Queen Elizabeth II Park and set the new world record for her age for the longest triple jump.



Shirley Peterson, grandmother of three: ""I was amazed. I couldn't believe it," she said. You never know when you are going to do it (break a world record) - it just happens."
(enlarge photo)

Peterson broke the record four times on consecutive jumps. She had the field referee running back after each attempt, starting with 5.63m and taking the record to 6.3m on her fourth jump.

A member of the Christchurch Technical Athletics Club for more than 40 years, Peterson cannot remember every record she holds. She broke the world long-jump record last season, holds a hurdles record from when she was 65 and has several others from earlier years waiting to be broken.

"They are there to be broken. You get a lot of fun and enjoyment out of it," she said. "It's always nice to break a record, but you never say you are going out to do that. I think we are lucky to be able to do it at all as you get older every year."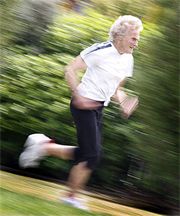 Her training regime involved regular runs and sprints at a Halswell park and "pop-ups in the pit" once a week at QE II.

(enlarge photo)

At the New Zealand Masters Games in Dunedin next month, she has entered the long jump, triple jump, 100m, 200m and the hurdles.

With 87-year-olds competing alongside her at events, Peterson said she had no plans to give up.

Since taking up athletics in 1946, Peterson has represented New Zealand in the Empire Games in Auckland (as Shirley Hardman) and the World Masters Series. Her daughter is a former New Zealand sprint champion; her son a former national triple-jump champion.
[ Submit a world record ] [ World Record Certificate]
[ Book of World Records ] [ World Records Store ] [ Club ]



Fastest Jump Shooter in Billiards-Rocky Lane


Largest miniature railroad-Miniatur Wunderland