Longest handcycle ride-world record set by Ryan Nichols

HUNTINGTON BEACH, CA, USA -- Ryan Nichols, a quadriplegic, has traveled 776 Miles in 11 days, from S.L.C. Utah to Huntington Beach, California during the "Invictus Tour" -setting the world record for the Longest handcycle ride.

Photo: Ryan Nichols covered up to 70 miles a day and propelled the vehicle using a hand crank. He described his hands and triceps as having only about one-third usage, but his shoulders and biceps are at full strength. "I pushed with my shoulders and pulled with my biceps," he said. (enlarge photo)

"Invictus Tour" ride was for the benefit of two charities which help physically challenged athletes and disabled sports programs — The Challenged Athletes Foundation and the Goodwill Fitness Center of Orange County. 100% of the contributions raised will go directly to the charities.

Ryan Nichols said he was inspired by a motivational speaker he met when he was injured in 1993. "Maybe someone's watching this who is going through something challenging, whether it's physical or emotional, and can see the same way that art impacted me. Or maybe a little bit of that can rub off on them as well," Nichols said.

A car accident paralyzed Ryan Nichols 15 years ago. Nichols and his fiancee had just mailed out their wedding invitations when tragedy struck. He was involved in an accident where his car rolled and he was thrown out.

A few months later, he saw a story about Art Bert, a fellow quadriplegic, who was propelling his handcycle from Salt Lake to St. George.
The two became friends. "I said one day, 'I'll get stronger and more able to do it. I want to do the same ride.' He challenged me. He said, 'You should do the same ride but go farther,'" Nichols said.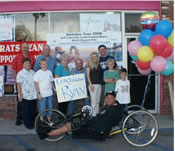 Ryan Nichols:"This wheelchair push will serve as a tribute to him and as an act of appreciation to my family and friends who support me in accomplishing what I once said I would do—Invictus Tour 2008". (enlarge photo)

Art Berg set a record by pushing his race chair 325 miles back in 1993. He died in 2002.

Ryan Nichols works as a pharmaceutical representative. His company outfitted him with a van, and at age 37, he has learned to live independently. He is basically self-sufficient, living alone and enjoying life in an apartment about two and a half miles from the beach.


Now, after nearly two years of training, Ryan Nichols repeated his friend's journey of 70 miles a day. And then he rided farther -- on to Huntington Beach, Calif.
(enlarge photo)

The experience has taught him just "how many people out there really care," Nichols said. "People just came out of the woodwork (to help)."

Ryan Nichols: "Everyone has trials in this life," says Nichols, who became a quadriplegic 15 years ago. "Some are just more visible than others."

Sunday, February 1, 2009

Related world records:
Longest stationary bike riding-George Hood sets new world record

Largest gathering of wheelchair users on ice-world record set by Leanne Grose

Back flip in a wheelchair -world record set by Aaron Fotheringham

Heaviest Plane Pulled by wheelchair users-DBFA sets world record

Oldest person-world record set by Gertrude Baines