Most kisses in one minute-world record set by DJ Paul Winstanley

BLACKBURN, UK -- DJ Paul Winstanley, 28, said he was "all kissed-out" after he was smooched 110 times in just 60 seconds outside The Mall in Blackburn, setting the world record for the Most kisses in one minute.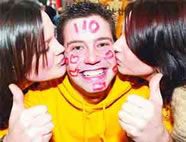 Photo: DJ Paul celebrates the 110 record with kisses from Annis Schofield (left), of Clitheroe and Jacqui Blackwell, also of Clitheroe

The record attempt saw a line of women give Paul a peck on the cheek before rejoining the end of the queue for another kiss.

He enlisted the help of 20 women and girls in the bid which saw him kissed on average more than three times per second.

Paul, who lives in Mellor, stepped in at the last minute after his colleague at The Bee radio station Andy Cook had to pull out after developing a throat ulcer.

He said: "It was great fun and I actually can't believe that we got the record. "My girlfriend Liz was here watching and I would like to apologise to her for kissing so many girls.
"I think I owe her a box of chocolates!"

Friday, March 6, 2009

Related world records:
Longest kiss while standing in the window-Mexx fans set record

Most kisses in the skies-world record set by SkyEurope

Most simultaneous kisses-world record set by Tuzla town

Longest Love Poem-world record set by the "Evening Star"