Most Math questions answered-world record set by worldwide students

[March 6]NEW YORK / LONDON/ PARIS/ TOKYO-- More than 1,000,000 students from 150 countries logged onto the Internet yesterday as they took part in World Math Day and set a new world record for the most Math questions answered: 182,455,169 correct answers!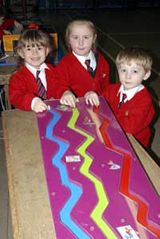 Photo:Red Hill Primary School pupils Charlotte Beynon, four, Niamh Harket and Alex Wohlman, both five BR10543

Competitors logged onto a math-based website and tried to answer questions while they were pitted against students from other countries. Students from nearly 150 countries took on the challenge.

Pupils at Red Hill Primary School, Chislehurst, took part in three days of activities involving the subject with help from the World of Maths, a group of experts who visit schools to help with pupils' maths.

Headteacher Margaret Warner said: "It has all added up to be a total success, and I am so glad the children have had so much fun with maths."

Sheriel Walker, also in the fifth grade, was the top math student in Florida last year. This year, she is facing off against international competition in China, Japan, Sweden and Germany. World Math Day is about more than just arithmetic. "They are learning geography skills," Klein said. "They are learning some reading skills and they are learning to be good sports."


Photo:Sunshine Beach State School teacher Carol Sharpe and students (L-R) Emilie Richeux, Chloe Garrett, Matt Spinks and Jacob Wilkinson get into the numbers on World Maths Day. Photo by Geoff Potter

Emma Morris, aged 12, from Year 8 at Woodhouse Middle School in Biddulph (UK), said: "I found it hard to beat some of the children from countries like China and Russia - it has been very challenging."

Here is the complete top 5:
1. Tatiana D from Team Australia, Australia on 65,199
2. Rock T from George Heriots School, UK on 62,273
3. Kaya G from The McDonald College, Australia on 59,300
4. Chris T from The English College, United Arab Emirates on 57,375
5. TK from Garden International School, Malaysia on 56,643

In 2007 287,000 students from 98 countries answered 38,904,275 questions correctly

Facts from 2007 World Maths Day
98 countries
1297 schools
286,392 students
38,904,275 questions
34% average improvement in mental maths speed
109 was the most questions answered in 60 seconds
23 – the number of developers in the World Maths Day team
127 – the number of kids trying to hack the World Maths Day website during the 2007 event

For more information, go to WorldMathDay.com.