Friday, November 22, 2013

Longest Flavoured Pasta: Singapore sets world record record (VIDEO)

SINGAPORE -- The green tea flavoured pasta, made by staff and students from the Republic Polytechnic School of Hospitality, to celebrate the opening of its new state-of-the-art training facilities, measured 501.92 metres and went to a good cause as it was donated to some 250 elderly beneficiaries; it also sets the new world record for the Longest Strand of Flavoured Pasta, according to the World Record Academy: www.worldrecordacademy.com/.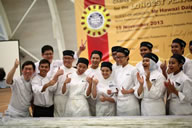 Photo: Chef Iggy with his class of CSKO students and 2 Chef Instructors, i.e. Chef Alan & Chef Soon posed for celebration on the record breaking of Longest Flavoured Pasta! (enlarge photo)

The Guinness World Records' record for the largest bowl of pasta weighed 6,253 kg (13,786 lb) and was made by Buca di Beppo Italian Restaurant (USA), at the chain's Anaheim restaurant, Garden Grove, California, USA.

Guinness World Records also recognized the world record for the largest box of pasta; it measures 1.54 m (5 ft 0.6 in) in height and 1.30 m (4 ft 3.8 in) in width and was created by Barilla Gida A.S. (Turkey), in Istanbul, Turkey.

Republic Polytechnic (RP) today celebrated the 5th anniversary of its School of Hospitality with the opening of new state-of-the-art training facilities for its students.

Dr. Maszenan Abdul Majid officiated at the event which also saw the school breaking a new world record for the longest flavoured pasta.

Under the guidance of School of Hospitality Chefs Shunsuke Kusubashi, Ignatius Leong and Alan Tan, the team had six practice runs to create the pasta, to ensure the length would measure a minimum of 500 metres. In addition, to showcase an element of Asian inculturation, green tea flavour was selected for the pasta.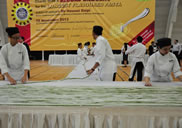 Photo: Republic Polytechnic's School of Hospitality (SOH) celebrated its fifth anniversary and at the same time officially opened its new state-of-the-art training facilities. A new world record for the longest flavoured pasta was also broken at 501.92 meters in length. The pasta was then cut up and distributed amongst care giving organisations which benefited 250 elderly. Photo: Ms. Shuheerah Rosli (enlarge photo)

The record-breaking event came as the school officially opened its new state-of-the-art training facilities.

The S$2.4 million training facilities will provide students with a hands-on industry environment, including an open-concept training restaurant, hotel guest rooms, front desk and a barista lab.

Director of RP's School of Hospitality Albert Toh said: "It trains students on the reality of what the industry is all about -- having to make decisions and make change to things that are the norm. And this is what allows them to be able to deal with difficult situations."

The world record was sponsored by: Fairmont Singapore and Swissôtel The Stamford.

The world record attempt was supported by the National Metrology Centre (NMC) of the Agency for Science, Technology and Research (A*STAR), which certified the length of the flavoured pasta. The National Metrology Centre is the custodian of the national measurement standards in Singapore.

Pre-registration: June 2013
Application received: Nov 22, 2013
Record listed: Nov 22, 2013

Related world records:
Longest Ham and Cheese Sandwich: Singapore students set world record

Longest pasta chain: Beavers broke Guinness world record

Largest Rustic Potato Bread: Bucharest Agricultural Fair sets world record (VIDEO)

Longest strand of pasta: Japanese Store sets world record (VIDEO)

Biggest pasta box: Barilla sets world record

Largest scone: CWA ladies sets world record (Video)

Longest handmade noodle: China

Longest noodle: Italian Chefs

Largest cannoli: Giulio Pistolesi and Scott Wilkinson

Largest Cornish pasty: world record set by Proper Cornish

Longest Loaf of Bread: Italian bakers

Oldest Hot Cross Bun: 189-year-old bun

Largest Bowl of Pasta: Buca di Beppo

Largest Bowl of Pasta: Wataniya Restaurants

Most Pasta Sauces created: Chef Marco Ragnacci

Largest Kunafa pastry: Muhanned al-Rabbe