Biggest coffin-Eternity restaurant sets world record

TRUSKAVETS , Ukraine --The Eternity restaurant was build in a 65ft long coffin, made up of 30 cubic metres (1,060 cubic feet) of pine, setting the new world record for the Biggest coffin.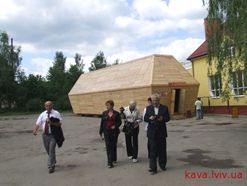 Photo: This huge casket, which is 20 metres long (66 feet), six metres (20 feet) wide and six metres (20 feet) high, is decorated with wreaths and dozens of normal-sized coffins.
(enlarge photo)

"Thirty cubic metres of pine have been used for the construction,'' said Andri, one of those behind the new enterprise, ahead of its recent opening.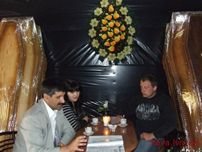 Morbid diners can browse the funeral paraphernalia before ordering from a menu that includes "Nine Day" and "Forty Day" salads - named after local mourning rituals - and an ominous-sounding dish called "Let's meet in paradise".
(enlarge photo)

"It's our director Stepan Pyrianyk who had the idea. He loves his work and reckons the project will bring tourists to Truskavets.''
The coffin restaurant, called Eternity, is the work of a funeral parlour in the town of Truskavets, in the west of the country near the Polish border.

Single candles on the tables contribute to the funereal mood.

The undertakers hope that their restaurant will attract tourists to a region best known for its mineral-rich bathing waters.
Photos: www.kava.lviv.ua

July 7, 2008