Largest fireworks display-world record set by Dubai

[Jan 1]DUBAI, United Arab Emirates (UPI) -- Organizers of New Year's festivities in Dubai, United Arab Emirates, said the aim of their New Year's fireworks display was to set a world record for the largest fireworks display.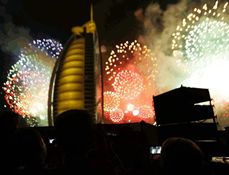 Photo:

The New Year was rung in in extravagant fashion in Dubai, with a spectacular 15 minute long firework display which lit up the Burj Al Arab
Photo by Prasad Nair/Gulf News

(enlarge photo)

Grucci, the fireworks company that created displays at the 1984 Summer Olympics in Los Angeles and the 2002 Winter Olympics in Salt Lake City, was hired by organizers to create the world's largest fireworks display -- reaching as high as 1,000 feet, al-Arabiya reported Monday.

"We want to make Dubai famous worldwide like it has never been before," one of the organizers said. He said the city wants to break the record every year from now on.

However, he said the record was not the only goal of the fireworks. "We also want to create a piece of art in the Dubai skies," he said.

About 1 million people had been expected to attend festivities in Dubai.
[ Submit a world record ] [ World Record Certificate]
[ Book of World Records ] [ World Records Store ] [ Club ]



Fastest Jump Shooter in Billiards-Rocky Lane


Largest miniature railroad-Miniatur Wunderland

Fastest board breaking-record set by Mitch Ellis