Most free throws in one hour-world record set by Mike Campbell

[Aug 24] DENVER-- Local resident Mike Campbell has set a new Guinness World Record for the most successful free throws in one hour, with 1,338 shots.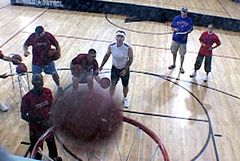 He has five or six balls going at a time and someone right at his elbow to keep feeding him basketballs. Campbell is from New Jersey and says he is a basketball nut. He started shooting free-throws early on.
"Almost nobody shoots 90 percent, even in the NBA," said one of the shirts players in the crowd. At the end of an hour, Campbell fired off his last ball and it was an air ball.

But what was the final count? He needed 1,272. He made 66 more than that. Even those unhappy shirts and skins players had to congratulate him.

Mike Campbell's world record from last year, which was 1,197 made of 1,347 attempts set July 21, 2006, at the Princeton Family YMCA is in the current Guinness Book of World Records, 2008 Edition.

After recently coordinating with Guinness World Records to finalize another attempt, Campbell learned that his record had been broken by an athlete from the United Kingdom and was now 1,271 successful free throws which is slightly more than 21 free throws a minute for an entire hour!

Since the only way to break this new record was to take more shots and shoot at a high percentage, his game plan was to shoot at a very quick pace of about a shot every 2.5 seconds and hopefully make 90 percent.

Upon completion of the one hour, he had made 1,338 of 1,517 attempts and regained the Guinness World Record for the most successful free throws in one hour. He shot slightly quicker than the planned pace and at 88.20 percent overall was near the target percentage. The average was more than 22 free throws a minute.

Most free throws in one hour-world record video