Highest shallow dive-world record set by Darren Taylor
[July 31] TOKYO, Japan-- Darren Taylor, otherwise known as Professor Splash, have set the new world Record for the highest shallow dive: 10.70 meters (35 feet) into 30 centimeters (12 inches) of water into a kiddy pool.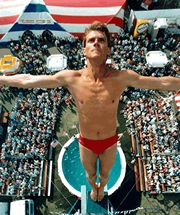 In an interview with 9NEWS, Professor Splash said his technique is to "skip accross the water" when he makes contact with it.

He also added that "experience and research" is the key to his success and that what he does is not easy. "My latest dive in Tokyo was scary," said Professor Splash.

Professor Splash must be happy though; not only has he likely set the Guinness World Record, but he has also broken his own record for the third time.


The daredevil continues to keep busy, now focusing on high dives and fire diving.

Professor Splash is a native of Colorado.

For more information on Professor Splash (Darren Taylor) visit: www.professorsplash.com