Giant Trevally caught by Tineka Scott set world record
[Aug 7] NUKU'ALOFA,Tonga -- TINEKA Scott, serving with the New Zealand Police in Tonga, caught a 38.4kg Giant Trevally on a 15kg line, after an exhausting 100 minute fight.

"It was hard work, and I'm pretty sore," said Tineka after battling to land the fish. "After an hour I was wondering how much longer it was going to take. I did the whole thing by myself. It was never going to get away."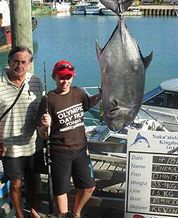 Photo:
Tineka Scott weighs in a women's world record claim 38.4kg Giant Trevally, with competition judge, Hon. Justice A. D. Ford

Tineka from the North Shore, Auckland, described her catch as "pretty exciting".
She is a Senior Sergeant who came to Tonga after November 16 to work alongside the Tonga Police in a community policing programme, which visits schools and helps to make the community feel at ease.

The caught was made during the first day of an annual ladies fishing tournament.

"Our fish is a clear record claim," said Bill Triffitt, the Tournament Director, after confirming with the International Game Fishing Association (IGFA) in Florida that the current Giant Trevally women's world record from Kiribati was 33.18kg - a record that has not been broken since 1987. "Our fish beats what we believe is the current ladies record for 15kg line class by about 5kg and there are no known record claims pending."

Bill said "It could be very good for the very small game fishing industry here, this kind of thing can attract a lot of international anglers."

Tineka was fishing from Blah Blah with Skipper Kevin Yorwarth of the New Zealand Army, who is posted in Tonga as a Technical Advisor Mechanical to the Tonga Defence Services, when she hooked the Giant Trevally off the reefs near 'Atata Island.

"We gave the fish to the TDS to feed the troops," she said.

Giant Trevally can grow even bigger than the one caught by Tineka. The current men's record for a Giant Trevally is 51.5kg caught in Japan.