Most apples collected-world record set by Claude Breton
[Sep 17] DUNHAM,Que,Canada-- Claude Breton reportedly collected 2,811.8 kilograms of apples in eight hours and has set the new world record for the most apples collected.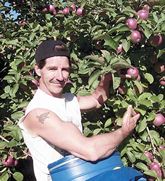 Breton filled eight wooden boxes, each of which contained 3,780 apples, at the orchard where he works in Dunham, Que., 100 kilometres southeast of Montreal.

Some onlookers paid $10 for an apple autographed by the new world champ. One shelled out $40 for the last apple picked. Breton says he will donate the money to his martial arts club.

The Sherbrooke-born Breton has been an avid apple picker for more than three decades, starting at age 17. In an era where orchard owners are increasingly turning to migrant workers willing to pick, Breton loves his work, regularly putting in 12- and 14-hour days during the harvest season.

"Even in the years when I was working elsewhere, I would take my vacation to pick apples," he said. "I guess you could say I'm a passionate apple picker."

For the last seven years he's worked full time at Gagnon's orchard on Godbout Road, pruning, planting and handling the tasks required to keep the large orchard and neighbouring tree plantation running smoothly.

The idea of setting a world record first came to mind eight years ago. He didn't have much luck getting the information he needed, so it was put aside.

The idea came back this summer. He began to look into it more seriously. "There was a similar record for berries," he said. "But there's nothing for apples."

So how do you pick so fast? Breton gets a rhythm going that often sees him have three or four apples in each hand at any given moment. He's been training in preparation for the big event.

Efforts will have to be made to keep leaves and other debris out of the bins as well. "People who haven't met me ask if I have big hands," he said. "I don't. It's just the way it works out."

The attempt has even provided the orchard worker with a bit of fame, having gained province-wide media attention. He's already had a challenger, someone who wants to pick in a one-on-one challenge.

"This time I'm just going to focus on setting the record," Breton said, not ruling out future challenges. "A lot of people have become interested in this."







Fastest single-turbine engine plane


The Perfect Ten- Nadia Comaneci