Biggest Chicken Egg-world record set by "Titi"

CAMPO FLORIDO, Cuba--A Cuban hen laid a 180 gram (6.34 oz) egg-setting the world record for the Biggest Chicken Egg.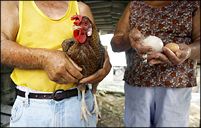 Photo: The world's largest egg was laid by "Titi," a one-year-old hen belonging to the Martinez-Guerra family in Campo Florido, Cuba, 25 kilometres (15.53 miles) east of Havana./ AP photo by Javier Galeano
(enlarge photo)
According to Cuban officials, the egg was 10 grams heavier than the current record holder from the Canary Islands, a chicken egg weighing 170 grams. Titi's owners, the Martinez-Guerra family, proudly showed off their enormous egg.


In statements to ACN, the hen's owner, Teofilo Martinez, 77, said that he has raised chickens all his life, but the morning he saw the egg laid by one of his twenty some hens, he "just couldn't believe his eyes."
Photo: Cuban News Agency
(enlarge photo)
"She seemed normal, but couldn't properly sit on the nest, so I went to see what was wrong," he explained, "then I saw it."
He called his grandsons who took the egg to a jeweller who weighted it on an electronic scale. The scale showed 180 grams.


"Everyone is amazed at how large it is," 66-year-old Estela Guerra said. " This has never happened before. We have never seen one this size and we've had chickens for a very long time."
AP photo by Javier Galeano
(enlarge photo)
Her husband, 77-year-old retired farm worker, Telesforo Martinez, said the egg weighed 180 grams.
Martinez' and Guerra's grandson, Kendry, is bent on making his grandparent's chicken and her egg famous.

"A short time ago they published something about an egg on the eastern side of the island," Kendry explained. "It weighed 171 grams (6.03 ounces) so we got curious about our egg which is larger and heavier and could break all egg records. We've been trying to contact the media with the objective that the world should see this curiosity ."

For now, the family have placed the gigantic egg in the refrigerator for the time being.


National Geographic Video:Biggest Chicken Egg Ever?

Tuesday, August 5, 2008