Most number of mothers' breastfeeding in multiple sites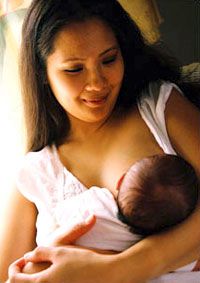 [May 4] -- The attempt to make it to the First World Record on Simultaneous Breastfeeding in Multiple Sites gathered breastfeeding mothers in different areas nationwide.
Mothers willingly went to barangay halls, daycare centers, churches, hospitals and other non-day care sites to take part in the national count. Bacolod city health workers went house to house to dissimenate the information on the simultaneous breastfeeding as well as invite breastfeeding mothers to join the endeavor.



In 2006, the Philippines also broke the guinness record previously earned by California having 1,130 mothers in 2002 breastfeeding simultaneously while last year the Philippines has 3,541 mothers simultaneously breastfeeding in single site.

Lectures on the benefits of breastfeeding on both mother and child as well as other health practices were held before the breastfeeding session. After breastfeeding, mothers are fed with indigenous foods like boiled camote, bananas and fresh fruits which promote the consumption of these foods complementary to breastfeeding.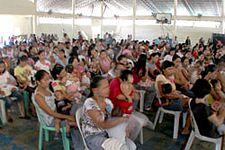 Photo:
In Iloilo City hundreds of breastfeeding mothers gathered at the Jaro Plaza covered gym.
Photo by A. Chris Fernandez

Christine Gardose of Brgy. 20, Bacolod City is one mother who responded to the invitation. Gardose has four children all were breastfed from 0 to more than three years old. Her three-year old youngest daughter was the one she brought to the center to join in the simultaneous breastfeeding.
When asked why she opted to breastfeed all her four children, Gardose said that aside from the fact that it gives her children good nutrients, it is economical and it creates a special bond between her and her children.
Gardose said that unlike her neighbors who often worry where to get money to buy milk, she doesn't. Her children are even in better health condition and are not prone to sickness since she breastfeed them, Gardose added.

The purpose to set a world record is secondary only to advancing the Anti-Poverty Program of the government through the basic approach of "People's Initiative with the Massive Support of the Government". "I joined this activity to reach out to other mothers, even the well-off to breastfeed their children," Gardose said in the dialect.
Source: PIA Press Release