Longest Condom Chain-world record set by PSI Foundation

[Nov 1] BUCHAREST, Romania--Romanian organization the Population Services International (PSI) Foundation set up the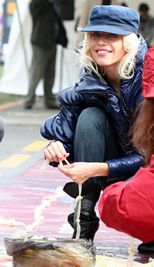 Longest Condom Chain in the world, which at 3,300 meters was registered as a new world record.

In the presence of Romanian celebrities-like Romania's Pop Diva Loredana Groza Boncea (see photo) and other NGOs active in the HIV/AIDS field, 1683 people tied togheter 25.773 Love Plus condoms, making a 3268,47 meters long condom chain.
(enlarge photo)

The previous world record adjudicated by Guinness World Records™ was set by UNESCO Thailand, on the 1st of December 2006, the International Aids Day, during the Condom Chain of Life festival, when a 2.7 km condom chain was tied.

Through its social marketing programmes, PSI Romania protected, during its 9 years existence, over 50 million sexual contacts through the social brand Love Plus.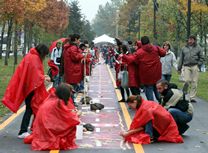 Love Plus is the only social brand in Romania, which donates 100% of its sales evenues to fund its social HIV/AIDS prevention programs. In the last three years,
(enlarge photo)

Love Plus donated over 500.000 euros for HIV/AIDS prevention among youth through the "I do what I want, but I know what I am doing®" ( "Fac ce vreau dar stiu ce fac") social program.