Longest karaoke-world record set by Kouvola Club

[Aug 27] KOUVOLA, Finland-- Kouvola Karaoke Club in southern Finland, has set new world record for continuously sung karaoke, clocking 211 hours, 38 minutes and 4 seconds.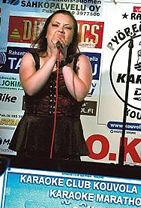 More than 500 karaoke singers from across the country took part in the event, the reports said.

Aimo Sippola, president of the Kouvola Karaoke Club, described his sentiments after the setting of the new record as tired but happy. "Unbelievable, weird, an almost empty feeling", Sippola analysed his emotions as the moment passed and more and more singers climbed on stage.

Singers from across Finland have travelled to Kouvola to take turns at the microphone.

Between the numbers there must not be a break of longer than 30 seconds, and any one song can only be repeated after a minimum of two hours.

Mare Haikonen of Kouvola waits stageside bearing the number-tag 2655. Haikonen has spent two nights and a day at the scene, and so far has stepped up to the microphone a creditable 19 times. "The joy of singing is what attracts us to karaoke", Haikonen explains. "No-one gets criticised as long as one does not get up on stage merely to perform unintelligible drunken bellowing."
The Nordic country already holds the world record for the biggest karaoke show, set last year in Helsinki by 80,000 fans of the hard rock group Lordi - winner of the 2006 Eurovision song contest - who all sang together.