Youngest Skydiver-world record set by Valentina Mihanciu

[Nov 5] STREJNIC, Romania --The 9 year old Romanian VALENTINA MIHANCIU has set a world record for the youngest skydiver, after performing a jup in tandem with her trainer at Strejnic, Ploiesti-Romania airfield, from a height of 4000 m, with a free fall of 55 seconds.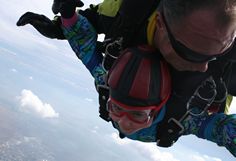 VALENTINA MIHANCIU is a laureate, IV grade pupil at Onisifor Ghibu High-School, Sibiu. She has been skiinng since she was one yr four months old. She is skating, dance and diving.
(enlarge photo)

She first flew at the early age of 6 months together with her parents on the board of a PZL-104, WILGA airplane.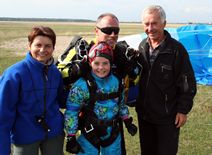 The father, VASILE MIHANCIU, is parachute jumping trainer, multiple national champion and world record holder with 6800 jumps and the mother
(enlarge photo)
TATIANA POPONEA is parachute jump trainer as well with 1800 jumps from airplanes.
The parachute jump trainer who has jumped with VALENTINA MIHANCIU in tandem, Nicolau Ramiro, is multiple national champion and he performed 6500 jumps up to this moment.

Youngest Skydiver world record video

Media:

China / People's Daily Online:
9-year-old Romanian girl becomes youngest parachutist

Vietnam: Tuoi Tre Online

Vietnam: Vi?t Bįo Viet Nam

TV Antena1: Record omologat

TV B1TV "Nasul"/11.08/

TV Romantica/13 Nov/ TEO/

Trilulilu.ro: video-record mondial

Atac:
O sibianca de numai 9 ani a intrat īn Cartea Recordurilor

Click: A intrat in Cartea Recordurilor

Cotidianul: Recordmana la 9 ani

Libertatea:
La noua ani a sarit cu parasuta de la 4.000 de metri

Ziua:
O romanca e cea mai tanara saritoare cu parasuta din lume

Curentul:
Valentina Mihanciu, cea mai tānara parasutista din lume

Cancan: Cea mai tanara parasutista din lume e o sibianca

Tribuna Sibiu: O sibianca de 9 ani, īn Guiness Book

spiritofromania.com:
Valentina Mihanciu inscrisa in Cartea Recordurilor ca cea mai tanara parasutista din lume

Sibiu virtual: 4.000 de m: Zbor de Cartea Recordurilor

Sibiul.ro: 4.000 de m: Zbor de Cartea Recordurilor

Sibiunews.com: Copila sibiana de Cartea Recordurilor

HotNews.ro: 4.000 de m: Zbor de Cartea Recordurilor


Skydiving after heart surgery-Laura Rites

Strongest Ear-Lasha Pataraia


Fastest talking female-Fran Capo


Largest passenger plane-Airbus A380


Fastest 10K race-by Hillary Kimaiyo