NEW world record here:
Youngest relay team to swim the English Channel-world record set by English swimmers
Youngest relay team set record swimming English Channel
[Aug 12] DENVER, CO--Colorado Open Water Swimmers (COWS)
were successful in their attempt to break the world record for crossing the English Channel.The six are the youngest relay swimmers to cross the 21-mile route across the Strait of Dover, says their coach.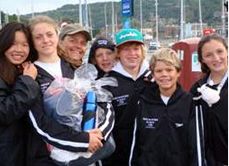 The group of six twelve-year-old swimmers became the youngest relay team in history to complete the 23.5 mile swim from Dover, England, to Cap Griz Nez, France, which actually becomes roughly 30 miles when you allow for current.

The first recorded solo crossing was in 1875.

Three boys and three girls - Sara Nash, Maggie Cyr, Kianna Lee, Wyatt Oerman, Tim Soderlund and Erik Biernat - overcame choppy seas to swim from Dover, England, to Cap Griz Nez, France, in 9 hours and 58 minutes, a world record for swimmers their age, according to assistant coach Jack Nuanes.

Youngest relay team to swim the English Channel-world record set by English swimmers

"It went great and it was really fun," Nash said. "But we had these monstrous waves that were attacking us from every end. It was hard."

"It was so much fun," said Wyatt Oerman, who already holds the record for youngest person to swim without a wetsuit from Alcatraz Island to the San Francisco Bay. "It's nice to say you have a world record."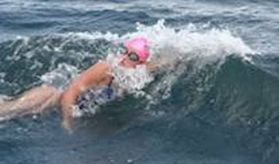 Lee, who swam a second leg despite a bout of seasicknes, said: "All the waves were sloshing back and forth. They were huge. And I kept swimming into seaweed and jellyfish. I was sick, so it didn't hit me right away that we'd actually crossed the channel. But once I got to think about it, I was really excited."

Swimmers must be at least 12 years old to cross the channel in an officially recognized swim. The fastest four-person adult relay team, by comparison, took 8 hours and 41 minutes.

The team is a collection of swimmers from Broomfield, Boulder, Centennial and Aurora.

The Colorado team took turns in a relay of one-hour legs. They had hoped to finish in 15 to 18 hours. They slashed their expected time by at least a third.

An official from the Channel Swimming and Piloting Federation was with the team to record the finish time and to make sure rules were followed.

They were not allowed to touch each other in the water, and each swimmer was required to swim past the next swimmer in the relay. They were allowed only swimsuits and goggles - no wet suits.

The temperature in Dover reached a high of 64 degrees, according to the BBC.

The concept to create a team of young swimmers and try to break the world's record had been the brainchild of team member Sara Nash's father last year. He was a swimmer in college. He joined forces with Wyatt Oerman's mother and together they built the team. This past April, Kevin Nash passed away during surgery. The team became determined to fulfill his dream and accomplish the goal of breaking the world record in his memory.

The COWS had a vigorous training regimen:
-- All swimmers practiced an average of 4 days a week in a pool. Practices consist of swimming between 5,000
-- 7,000 yards per day.
-- Swimmers began cold water training April through August 2007.
-- Training without wetsuits began in April at various Colorado Front Range reservoirs with water temperatures between 55-65 degrees Fahrenheit.

Ages of Swimmers:
-- Wyatt Oerman 07/23/1995
-- Kianna Lee 12/26/1994
-- Maggie Cyr 03/16/1995
-- Sara Nash 06/29/1995
-- Erik Biernat 02/21/1995
-- Tim Soderlund 08/28/1994

Youngest relay team to swim the English Channel-world record set by English swimmers