Most spectacular opening ceremony-Beijing sets world record

Birdís Nest stadium, BEIJING, China -- A dazzling opening ceremony-with 15,000 performers and 30,000 fireworks, an audience estimated at up to four billion, and an estimated cost of $100 milion, launched the Olympic Games, setting the new world record for the most spectacular opening ceremony.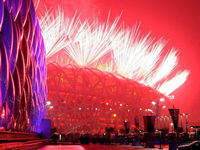 Photo: Light show: Bird's Nest lit up by fireworks. The opening ceremony was conceived on a huge scale by the film director Zhang (Raise The Red Lantern) Yimou. (enlarge photo)

It was a ceremony seemingly made in heaven, featuring spacemen, flocks of doves, a dreamy, flutter-by of fairies and fireworks - thousands of fireworks.

The lighting of the cauldron was due to be carried out shortly after by Li Ning, a gymnast who won three golds at the 1984 Games, then went on to build a huge sporting apparel company and turn himself into an icon of successful, modern China.

His lighting of the Beijing Olympic cauldron, after "space walking" around the inner wall at the top of the 91,000-seat National Stadium, was a perfect finishing touch to the dazzling opening epic of the Beijing Games.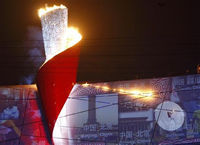 Photo: Former Chinese gymnast Li Ning lights the Olympic cauldron during the opening ceremony of the Beijing 2008 Olympic Games at the National Stadium August 8, 2008. The stadium is also known as the Bird's Nest. REUTERS/David Gray (enlarge photo)

In 50 fleeting minutes, rich in colour and choreography, they dramatically showcased more than five millenia of Chinese history for 91,000 spectators and an estimated television audience of 4 billion.

Even "lao tian ye", the heavenly grandfathers earlier invoked by Wang Wei, secretary-general of the BOCOG organisers, looked kindly on the event, withholding bad weather.

The fireworks of the opening ceremony of the Beijing Olympic Games held in the National Stadium, also known as the Bird's Nest, in north Beijing, China. Xinhua/Chen Kai (enlarge photo)


(enlarge photo)


The scroll and a "globe" made of aluminum alloy rose from elevating platforms, and performers walked, headstood and did all stunts on nine tracks of the "globe".
(enlarge photo)
The numbers alone, as befitted the world's most populous nation, were breathtaking: 19,000 rounds of fireworks, 15,000 different types of costume, 9000 performing members of the People's Liberation Army, 3000 "scholar disciples" of Confucius.

At eight minutes and eight seconds past eight, on the eighth day of the eighth month, 2008, the Olympic Gamesí opening ceremony went underway.

"For a long time, China had dreamed of opening its doors and inviting the world's athletes to Beijing for the Olympic Games. Tonight that dream comes true. Congratulations, Beijing," said the IOC chief.

Everything, even the fireworks display, has been meticulously choreographed and rehearsed.

The new stadium, known as the "Bird's Nest", was designed by the star Swiss architects Jacques Herzog and Pierre de Meuron.

In China, eight is considered a lucky number that signifies prosperity and for the people of Beijing, hosting the Olympics is a chance to show the world just how prosperous China has become.

Around 80 world leaders - including American president George Bush, Russian prime minister Vladimir Putin, and France president Nicolas Sarkozy were present as China showed they had spared no expense in welcoming the Olympic movement into Beijing.

Bush is the first US president to attend an Olympics on foreign soil. Mr Bush brought five family members along: his wife, Laura, daughter Barbara, father, George Bush senior, sister Dodo and brother Marvin.

"You have chosen as the theme of these Games 'One World, One Dream." That is what we are tonight," said International Olympic Committee (IOC) President Jacques Rogge. "As one world, we grieved with you over the tragic earthquake in Sichuan Province."

For the first time in the Olympic history, a record 204 countries and regions - almost the entire Olympic Family - sent their athletes to Beijing.

Beginning in a blaze of fireworks followed by 2,008 drummers playing the traditional Chinese instrument the fou, the ceremony also included 29 giant firework 'footprints' - representing the number of modern Olympic Games - from the centre of Beijing to the stadium.

A light-show followed, with giant illuminated Olympic rings being raised up from the floor of the stadium, and a total of 10,000 well-drilled performers took part in the show, all in all making a staggeringly well prepared and ultra-expensive opening ceremony.

Light-emitting diodes (LEDs) were installed across the 20,000-square-meter National Stadium, better known as the Bird's Nest, to create an ideal multimedia environment, with storage cells backing up electricity supplies.

An LED screen 147 meters long and 22 meters wide was laid at the center of the ground, and about 44,000 colorful LED beads were embedded with a distance of 600 millimeters between each two. Tiny LED beads were also embedded on the costumes of performers who fan out to create a falling starry sky and a brightly-lit Bird's Nest.

For the first time ever in Olympic openings, Beijing used a technical monitoring system for program control of more than 18,000 performers through their identification codes.

"The Beijing Olympics opening features dozens of new technologies developed in many areas," said Yu Jianping.
Cellular materials designed for the space sector, for example, were used to make paper in the painting scroll, he said. "Most of the core technologies used in the opening ceremony were independently developed by domestic companies."

"The engineering design at the opening ceremony borrowed many of the latest space technologies. They ensured the stable operation of thousands of devices," said Zhou Fengguang, head of the Engineering Design and Research Institute of the People's Liberation Army General Armament Department.

The control center of the opening ceremony was equipped with the "Shenzhou 4000" control system that was used during space missions.

Behind the dazzling show were sophisticated new technologies -- compressive air launches, chamber pressure launches and computerized ignition technologies.

The use of digital ignition control system minimized the time difference of the firework display to a few milliseconds at more than 30 locations across Beijing, said Deng Shaohui, an official in charge of the firework shows during the opening ceremony.

Despite a rare eruption of more than 40,000 shots, Beijing has used smokeless powder to reduce pollution to a record low, he said.

Fireworks indicating the 29 footsteps along Beijing's axis to the Bird's Nest is a unique idea of Cai Guoqiang, director of visual and special effects of opening and closing ceremonies for the Olympics and Paralympics.

His ideas, plus high technologies, brought to life many Olympic icons including the smiling faces and the five rings. "We spent two years working to ensure every cannonball is shot to the right place," said Cai. "Had one of them faltered, the final image would not be the same."

For the enthusiastic people packed into the Bird's Nest, and for the majority of the 1.3 billion other Chinese watching from afar, the ceremony was an occasion for great national pride, for celebrating the emergence of a world superpower.

Probably the most well-rehearsed but surely the most expensive of shows, delegates from London's 2012 committee will have a lot to do to op it in four years time.

It seems like no country in the world would be able to rival this yearís Olympics, as China has spent $ 43 billion for the preparations of the Olympics.

The Games run until August 24, with 10,500 athletes from a record 204 nations chasing 302 gold medals in 28 sport.

The Olympics is one of the biggest sporting events in the world and the Chinese nation has done justice to the event.

Thank You, China! Bravo China! Good Luck!

Friday, August 8, 2008

Agencies: Xinhua (10+), AP, Reuters, France Presse
Related:
Most 10 scores at Olympics-world record set by Nadia Comaneci