Longest croquet game-world record set by Adams players

ADAMS, MA, USA -- Five friends from Adams, Massachusetts have set the World record for the longest croquet game ever played, after playing for 32 hours, 33 minutes and 46 seconds.


Photo: Mark Horvath and four of his friends have been playing croquet all day.

Mark Horvath:"I've been playing for years. It's just something I like to do. It's fun to hang out and play. It's been a passion of mine for 20 or 30 years. I've actually had this mallet for 20 years. 'It's the wonder mallet'."

Horvath is the manager of the local Papa Ginos, and he has been helped in breaking the record by some of his employees, Ryan Poulton, Jennifer Kamienski, Neil Kirchner and Ryan Jackson.
The say it was teamwork that helped them make it through the heat and hours of play.

"It's been lots of coffee," Krichner said smiling. "The rain was bad, we just took shelter and held on to tarp and waited it out."

"It's pretty tough. It's been hot, it's been raining, there were thunderstorms," Poulton said. "And it's been going from cold to hot, sweating to chilly. At first we were trying to see who could win the most games but that's long gone. Now we're just having fun, trying to break the record."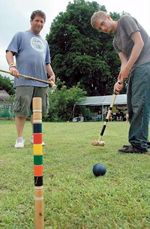 "A lot of team work, everyone came together, and everyone worked hard. It's not just the five of us out here playing, but it's the volunteers, the sponsors, everyone that made this come true. It's really an awesome event," said croquet player Mark Horvath.
Photo by North Adams Transcript (enlarge photo)

If setting your own croquet record is knocking around inside your own head, you should keep something in mind. One player says playing the game is actually the easiest part. The real challenge comes from trying to follow all the official rules, staying awake, and trying to beat all the summertime heat and even the rain.

"We have to have two witnesses every four hours so it can be verified," Horvath said."We have to have a steward to get water and things because we cannot leave the field. We also have to have an emergency medical technician on duty in four hour shifts. There's a lot of guidelines to follow. We had to follow the croquet association guidelines and create the field which is 100 by 50 feet. We have to play according to British croquet rules."

"I would say the hardest part wasn't playing. It was just handling the monotony of playing croquet hour after hour after hour...the elements, in the middle of the night, with 95 degree weather," said Mark Horvath.

"I'm thrilled. I'm happy that we made it this far. It's been rough," said croquet player Ryan Poulton.

It may have been a little rough, but this shot at the record books was well worth their wait.

"It's interesting to think about. It's not why we did it, we did it for fun, but it's going to be fun when we can see our names there," Horvath said. "We've all been working hard to get ready for it. Now we know what we have to do next year so we can break our own record. We'd like to get more sponsorship so we can do it to benefit a charity. Like a certain amount for every hour we played, maybe to the Boy Scouts or the little league or something.

"Every year we're gonna try to do this no matter where we are or what the record is. We're just gonna get together and play some croquet."

Wednesday, July 23, 2008