Most weddings in a single day-China sets world record

BEIJING, China -- At least 314,224 couples tied the knot across China on Friday, or 08/08/08, the opening day of the 29th Olympic Games-seting the world record for the Most weddings in a single day.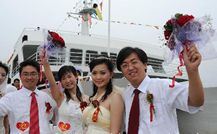 Photo:A total of 19 pairs of newlyweds from 12 cities of China hold a romantic group wedding on the sea in Olympic co-host city Qinhuangdao, north China's Hebei Province /Xinhua/Gong Zhihong (enlarge photo)

In Beijing alone, the host city of the Olympics, 15,646 couples were married, 23 times the daily average.

As expected, that was a one-day record for marriages since 1949, when the People's Republic of China was founded, the Ministry of Civil Affairs said on Saturday.

The previous one-day record for marriages in the capital was 4,452 on Dec. 18, 2006, which had one eight in it by the Western calendar. Under the lunar calendar, it was Oct. 28, which had two eights.

Major Chinese cities saw a surge of applications to wed on Friday, either for the triple-eight symbolism or to catch an "Olympic wedding".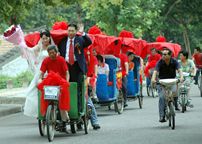 Photo:The new couple (Front) hold a special wedding ceremony to promote environment-friendly and economical wedding, in Huai'an, east China's Jiangsu Province, Aug. 8, 2008, the opening day of the Beijing Olympic Games./ Xinhua/Xu Changzheng
(enlarge photo)

The ministry held a special meeting on Tuesday asking local authorities to increase staff, use volunteers, work longer hours and open more offices to cope with the surge.

Some registration offices in Beijing and Tianjin worked around the clock to meet demand.

The Chaoyang District office in eastern Beijing registered a couple shortly after it opened for business at midnight.

On Aug. 8 last year, 3,390 couples were married in Beijing, making it the second most popular date after Dec. 18.

The last rush for marriage registrations was on Sept. 9, 1999. Nine in Chinese means "eternity."

The number eight symbolizes wealth, fortune and luck for Chinese. Many choose dates with the number to start a business, marry, deliver babies or undertake some other significant step. People also pay extra to have it in phone numbers or vehicle license plates.
- There are 8 furlongs in a mile
- Spiders and arachnids have 8 legs, and an octopus has 8 tentacles
- Hanukkah lasts for 8 days in the Jewish religion
- The Beatles had a #1 single titled '8 days a week'
- The symbol for infinity is a figure of 8, rotated 90 degrees
- The figure 8 is often referred to in ice skating
- 8 is the atomic number for Oxygen(O) on the periodic table
- In Asian cultures 8 sounds like the words wealth and prosper so therefore it is considered to be a very lucky number

Monday, August 11, 2008