Most pancakes made in one hour-Bob Blumer sets world record

CALGARY, Canada-- "Glutton for Punishment" host Bob Blumer set a new world record for the most pancakes made in one hour: he made 559 pancakes at the Calgary Stampede's Fluor Rope Square.



Photo: Bob Blumer of the T.V. show Glutton For Punishment frantically flips pancakes in his attempt to set the world record for most pancakes made in one hour, in Calgary. He broke the record by cooking 559 cakes in an hour, besting the previous total of 555. Ted Rhodes/Calgary Herald (enlarge photo)

"The grills are really finicky. When you put down pancakes, their temperatures cool down, so you have to be fine-tuning them," he explained. "Every second you have waiting for a pancake to cook after you have laid the whole batch down is a second that you are losing."

Steven Hamilton held the previous record at 555 pancakes.

Bob Blumer had five days to prepare. He was anxious enough about winning that he had started picking through the pancakes in the discard pile and was planning to challenge whether they should be counted.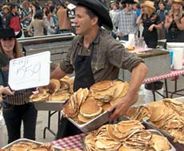 Photo: Bob Blumer set a world record in Calgary, flipping 559 pancakes in a single hour. (photo Chris Loach)-enlarge photo

In front of a cheering crowd at Rope Square in downtown Calgary, Blumer, who got off to a slow start, managed to pour, cook and flip 559 pancakes in the alloted 60 minutes. He bettered the old record by just 4. "The only thing tougher than bull-riding in this town is flipping flapjacks."

"I've never had this big a crowd and I've never felt so much pressure especially at the end," Blumer said. "I don't think there's ever been a challenge that I've wanted to succeed at as much as this one."

Ben Leblanc, the 30-year-old kitchen manager at Nellie's, a local breakfast institution, acted as his personal trainer and mentor. He also created the ideal recipe for cooking contest batter: Use cake flour and cut back on the sugar. That way the flapjacks won't burn as fast and will take a little longer to cook, giving Mr. Blumer the perfect pace to run between griddles and buckets of batter.

"It took us a couple of trial and errors and we figured it out, changed a few things and bam!" said Mr. Leblanc.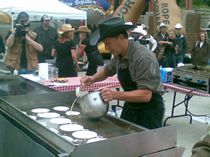 To beat the record, Bob Blumer would have to cook 9.3 pancakes per minute. Early on, Mr. Blumer couldn't get the proper temperature on the massive griddles positioned around him.
Photo: Bill Graveland/Canadian Press (enlarge photo)

He also gave up on the two cookers set up behind to work the ones up front. The flapjacks weren't cooking quite right. His technique wasn't honed.

Then, he swept away crumbs, applied fresh cooking oil with a squeegee, perfected the batter pour and was flipping like a pro. "I finally caught my groove," Mr. Blumer told the crowd with just 18 minutes left to make his mark. "I hope it's not too late."

A health inspector was on site to oversee the challenge.

Paperny Films recorded the feat for an episode of "Glutton for Punishment" - season three, which will air on Food Network in Spring 09. Episodes from season one and two currently air Friday nights at 11:30 p.m. ET/8:30 p.m. PT on Food Network.

"This was one of the toughest challenges I've had to date," says Bob Blumer, host and co-creator, "Glutton for Punishment". "It was a messy, physically demanding and really close race to the finish, but it was well worth it to now hold a new World Record."

The episode was shot against the backdrop of the Greatest Outdoor Show on Earth, the Calgary Stampede. The flipping took place at Fluor Rope Square (aka Olympic Plaza) in downtown Calgary, where over 30,000 free pancakes are served during the week to Stampede visitors.

In "Glutton for Punishment" host Bob Blumer seeks out the most extreme epicurean challenges around the world.

In each episode, Bob Blumer has roughly five days to learn the art of each challenge before undergoing a trial by fire to prove his worth. Whether it is haggis hurling in Scotland, the Medoc Marathon in France or detoxifying a poisonous blowfish in Japan, there is no challenge too intimidating for this glutton for punishment.

The series currently airs on Food Network Canada, Food Network US, BBC Canada, UKTV in the UK, Discovery Asia in Asian markets and SFINX Inc. in Japan. Season three is currently in-production.

The previous record was set on June 23, 2006, by Steve Hamilton, a.k.a. Chris Cakes, at Universal Studios in Orlando, Fla.

Friday, July 11, 2008