Monday, June 15, 2009


Most Successful Musical Debut-Susan Boyle sets world record

GLASGOW, Scotland, UK -- 48 year old church volunteer Susan Margaret Boyle made an enormously successful stage debut during a rendition of "I Dreamed a Dream" from Les Misérables in the first round of the third series of Britain's Got Talent, which was viewed 110 million times online in the first 10 days and 210 million times within the 1st month-setting the world record for the Most Successful Musical Debut.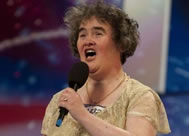 (enlarge photo)

According to Visible Measures, which tracks videos from YouTube, MySpace and other video-sharing sites, all Susan Boyle-oriented videos -- including clips of her television interviews and her recently released rendition of "Cry Me a River," recorded 10 years ago for a charity CD -- have generated a total of 210 million views. Nearly 20 million of those views came overnight.

The most popular YouTube video submission of her audition garnered nearly 2.5 million views in the first 72 hours. Within a week, the audition performance had been viewed more than 66 million times, setting an online record. A total of 103 million video views on 20 different websites was reached within nine days.

When she appeared on the Britain's Got Talent stage for the first time, the audience and the judges appeared apprehensive and judgmental of her unpolished appearance.

48 year old church volunteer Susan Boyle comes from West Lothian in Scotland. She lives at home with her cat Pebbles and has never been married, or kissed!

When she said her wish was to become as famous as British singer-actress Elaine Paige, acerbic judge Simon Cowell smirked mockingly, judging her on her looks. But behind her somewhat unkempt appearance hid a magnificent voice that even stunned the famously critical Cowell.

Upon finishing her song, she received a standing ovation from the live audience and unanimous praise from the judges.

After a breathless silence during Boyle's performance, the audience burst into a standing ovation.

Piers Morgan, one of the judges, admitted that he was impressed and said, "That was the biggest surprise I have had in three years of the show. "You said you wanted to be like Elaine Paige and everyone laughed at you. Well no one is laughing now."

Another judge, Amanda Holden, was almost brought to tears by Boyle's performance. "I am just thrilled," she said. "I think we were all guilty of being cynical before. It was a complete privilege to hear you."

The most cynical of judges, Cowell had a harder time admitting he misjudged Boyle before. "I knew the minute you walked out on that stage that we were going to hear something extraordinary, and I was right," he said of the unemployed woman from West Lothian, Scotland.

Susan Boyle has been dubbed "The Woman Who Shut Up Simon Cowell" (ABC News). Cowell was reported to be setting up a contract with Boyle with his Syco Music company label, a subsidiary of Sony Music.


The contrast between the audience's first impression of her when she appeared on stage compared to the ovation she received afterwards triggered global interest. Articles about her appeared in newspapers worldwide, while the numbers who watched videos of her audition have set an online record. ("The Washington Post")
(enlarge photo)

"The Washington Post": But it's not just in online video where Boyle, the unassuming woman from a tiny Scottish town, has dominated. Her Wikipedia entry has attracted nearly 500,000 page views since it was created.
Over the weekend, her Facebook fan page was flooded with comments, at some points adding hundreds of new members every few minutes. The page listed more than a million fans within a week.
Indeed, the sleepless Internet is her round-the-clock stage, and the 47-year-old who has said she's never heard of YouTube is the Web's hottest entertainer.
"She's really the world's singer right now," said YouTube spokeswoman Julie Supan. In her four years at the company, Supan said she cannot remember a video raking in this many views in such a short period of time.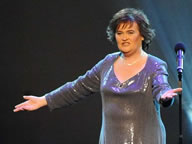 Her rendition of I Dreamed A Dream from the musical Les Miserables has turned her into a global phenomenon with celebrity fans including the actress Demi Moore.

(enlarge photo)

Susan Boyle told show presenters that she was single and living with her cat Pebbles. "I've never had a boyfriend," she said. "I've never even been kissed."

She has appeared on several US TV programmes including Larry King Live, the veteran interviewer's CNN show, and has been invited to sing on the queen of US daytime TV's programme The Oprah Winfrey Show.

A prospective corporate client was told that booking Miss Boyle, 48, who was second in the competition behind dance group Diversity, for just three songs lasting about four minutes each would cost a staggering £115,000.

An email from her agent Andrew Pountain, of Industry Music Group, to a corporate client who asked about booking Miss Boyle to perform three four-minute songs at an event in August said her fee would be "100k plus VAT", the News of the World reported.

On the web:
the official Susan Boyle website ; Susan Boyle on YouTube

Related world records:
Most successful TV show- world record set by the Dallas TV series

Most successful female recording artist-world record set by Madonna

Most succesful tenor-world record set by Luciano Pavarotti

Most successful solo artist-world record set by Elvis Presley

Youngest Successful Singer-world record set by Cleopatra Stratan

Youngest String Orchestra to Play at Carnegie Hall-world record set by South Pasadena Children's Orchestra

Monday, June 15, 2009