Largest rubber band ball-world record set by Joel Waul

LAUDERHILL, FL, USA -- Clothing store worker Joel Waul, 27, has created an 8,200lb rubber band ball made up of more than 726,500 bands, in the driveway of his home, setting the world record for the Largest rubber band ball.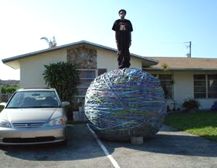 Photo: Joel with his 8,200lb rubber-band creation in the driveway of his home / WRA photo
(enlarge photo)

Joel Waul's ball already is made up of more than 300,000 bands of different sizes and he plans on adding 2,000lb more once the material is delivered to his home.

'I would like people to say I had the world's largest rubber band ball ever and that they probably couldn't break the record at all years from now after I'm gone,' Joel told the Sun newspaper.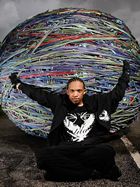 Photo: The ball already comprises 300,000 rubber bands - and will put on a hefty 2,000lb if Joel achieves his new goal /Photo Getty Images
(enlarge photo)

Facts:
Name: Nugget A.K.A. Megaton
Size:
-6 ft 3' High (75')
- 23 ft 9' Circumference (285')
Rubber Bands: ~726,500
Wheight: 8,200+ LBS
(Note: Pounds Only Reflect pproximate Bag/Box Count Rubber Bands)
Megaton's Sponsors: Stretchwell.Com ; Textrip.Com

The previous world record was set by Steven Milton of Eugene, Oregon, who created a 4,600lb ball using over 175,000 rubber bands. It was recorded as the world's largest in November 2006 in Chicago.
Milton broke the previous record set by John Bain in 1999, whose ball weighed 3,120lb.
Sunday, August 17, 2008