Largest paint-by-number mural-world record set by Eli Lily and Company

INDIANAPOLIS, IN, USA -- A mural on a 1,230-foot-long wall along Madison Ave., located just south of downtown Indianapolis, sets the World Record for the largest paint-by-number mural.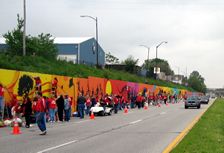 Photo: A former Manual High School/Art Institute of Indianapolis student Patrick Viles designed the mural to showcase fun, hard work, and healthy living in Indiana. / Photos by Amy (enlarge photo)

Well-known Indianapolis landmarks are featured, including the Indianapolis Zoo, The Children's Museum of Indianapolis and the city's south side.
"We're very proud of our employees' commitment to volunteerism and the passion they have for donating their time and talents," said Robert Smith, Lilly's director of director of corporate responsibility and community relations.

"Lilly is committed to collaborative efforts—like the Global Day of Service—that go beyond medicine to strengthen the fabric of our communities and help the patients we serve."

Lilly's Global Day of Service serves as the signature event for the company's "Hands and Hearts" program, which was launched in 2007 to enhance and encourage employee involvement with nonprofit organizations. Nearly 20,000 Lilly employees in nearly 50 nations rolled up their sleeves to help address local community needs in celebration of Lilly's first-ever Global Day of Service, which was possibly the largest corporate volunteer initiative to ever take place on one day. More than 9,000 employees participated in Central Indiana.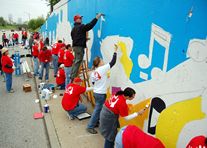 "We've seen first-hand the impact that Lilly's Global Day of Service has had on our Indianapolis community," said David Forsell, president of KIB.
(enlarge photo)
"In addition to donating the equivalent of more than 38,000 hours of service on one single day, Lilly's employees have also inspired others in the community to become involved. That's a benefit to our community that is truly immeasurable."

In 2007, Lilly's philanthropic contributions totaled about $315 million, including about $240 million in products for patient assistance programs and international humanitarian causes. Lilly's total 2007 giving represents about 6 percent of its adjusted income before taxes and has positioned Lilly once again as one of the most charitable companies in the world.

Keep Indianapolis Beautiful, Inc. is the proud organizing partner of the Lilly Global Day of Service in Indianapolis. KIB's mission is to unite people to beautify the city, improve the environment, and foster pride in the community.

Since 1995, KIB has helped its neighbors plant more than 25,000 trees, and has been supported by more than one thousand individual donors towards those efforts. The Lilly Day of Service is a perfect example of how KIB is the "go to" organization for community and environmental improvement.

The record was held previously in China.

Related world records:
Largest Outdoor Skating Rink-world record set by Mexico City

Largest Human Ribbon-world record set in Fort Knox

Largest pinata-world record set by Carnival Cruise Lines

Tallest Lego Tower-world record set in Vienna

Largest jigsaw puzzle-world record set by Ravensburg

Largest Permanent Light and Sound Show-world record set by Hong Kong


Wednesday, December 10, 2008